Former Manchester City players defend Blues' spending
Last updated on .From the section Football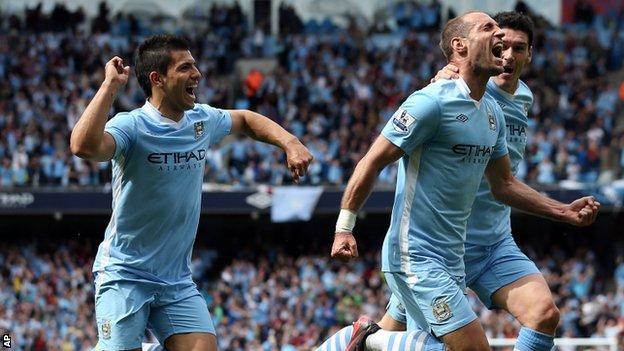 Former Manchester City players have defended the club's spending after the Blues' first title win in 44 years.
Sir Alex Ferguson has criticised their outlay and some have accused City of buying the title.
"United have bought players, Chelsea have spent big. You can point a finger at everybody," ex-Man City defender Colin Hendry told BBC Breakfast.
"You've got to look at the clubs that have won it already, including Blackburn."
ADUG took over from Thaksin Shinawatra on transfer deadline day in September 2008 and announced their arrival by spending £32.5m to sign Robinho from Real Madrid.
Their spending under Mark Hughes and Roberto Mancini has been estimated at around £435.9m and with £89m recouped in player sales, it works out as a net loss of £345.9m on transfer fees alone.
Ferguson has previously dismissed City's transfer strategy as "kamikaze" and recently claimed United's neighbours have brought "insanity" to the market.
Although Ferguson has regularly hit out at City's methods, the United manager broke the British transfer record three times in seven years to sign Andy Cole, Juan Sebastian Veron and Rio Ferdinand between 1995 and 2002.
City's injection of money has been compared to the years after Roman Abramovich took charge at Chelsea in 2003.
The Russian funded consecutive Premier League titles in 2005 and 2006 but despite signings such as the £30m capture of Andrei Shevchenko, the first four years of Abramovich's tenure saw in the region of £351m spent on transfers, although only around £49m was recouped.
Former City player and director Dennis Tueart insists City's first title since 1968 justifies the vast outlay.
He told BBC Radio 5 live: "We had to invest in a big way to catch up. The club already had a very strong foundation. We already had a great youth set-up, a good support base and a brand new stadium, we just needed to invest at the top end.
"We are lucky we have got the owners who have done that, but they knew they had a strong base to build on. It is tremendous we have got the vision to have a long-term strategy, and you get the reward for that."
Ex-goalkeeper Joe Corrigan, who played for the club between 1967 and 1983, also says City's success has been worth the investment.
He told BBC Radio 5 live: "I think Manchester City winning the title is a great thing for football. There's a lot of jealousy surrounding City.
"I think if you asked the majority of teams in the league if they would they like to have money backing their club I think the majority would say 'yes' as long as it was used in the right way. The owners' commitment should be applauded."