Norwich City will 'fight' to keep Paul Lambert
Last updated on .From the section Football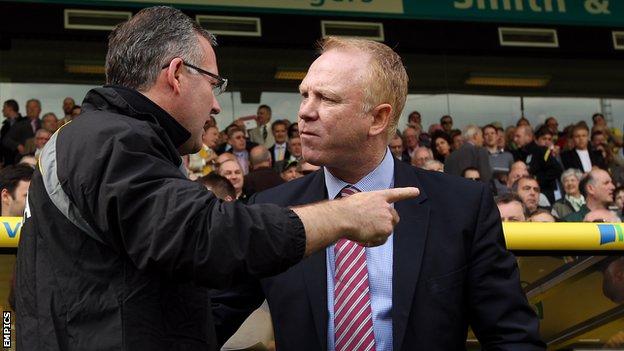 Norwich City chief executive David McNally says he is ready for a fight to keep boss Paul Lambert at the club.
Lambert followed up back-to-back promotions by steering the Canaries to mid-table safety in their first Premier League campaign for seven years.
"We would not welcome any enquiry for our football manager or any of the club's football players," McNally told BBC Radio Norfolk.
"We'll do everything we can and fight this as hard as we've ever fought."
Reports have suggested Lambert is a leading candidate to replace fellow Scot Alex Mcleish, who was sacked by Aston Villa on Monday following a dismal season for the Midlands club.
And in a peculiar show of supporter unity, both sets of fans could be heard chanting the name of Lambert during Norwich's 2-0 win over Villa at Carrow Road on Sunday.
The former Celtic midfielder succeeded Bryan Gunn at Carrow Road in 2009 and has won admirers for his side's adventurous approach to life in the top flight.
"If I was at another football club and I was looking for another manager he'd be top of my list," accepted McNally.
"In any business you need to look at what might happen - the what ifs.
"But we're focused on keeping our manager and the footballers he wants to retain at the club and to bring in better footballers to complement the club.
"I want other clubs to covet our manager and to want our players. Because if they do, that means we're doing something right.
"It's almost obvious, isn't it, that clubs would like to have them at their football club."
Lambert himself said he paid little attention to rumours linking him to jobs elsewhere, but stopped short of stating he would remain with the Canaries after the summer.
"If people want to be paranoid, I can't stop it. I don't worry about speculation, I don't worry about anything," he added.
"What's going to happen is going to happen and I won't change my ways."