Motherwell fans will savour Champions League adventure
By Andy Campbell
BBC Sport Scotland
Last updated on .From the section Football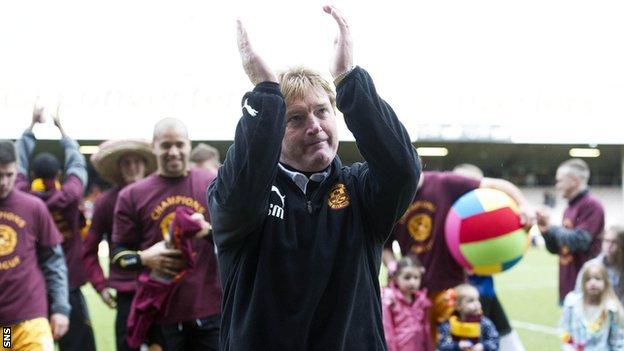 A final day defeat by Dundee United did little to dampen the mood at Fir Park as Motherwell fans savoured the prospect of another European adventure next season.
The Fir Park faithful have experienced European football in three of the last four years but the added excitement of entering the Champions League qualifiers for the first time has come about due to Rangers' ineligibility for Europe next season.
And Off the Ball presenter Tam Cowan says he and his fellow 'Well fans cannot wait.
"It's absolutely amazing because we had been a wee bit spoiled in recent years going into first of all the Uefa Cup, when we played Nancy, and then the various Europa League campaigns," he said.
"This is the biggie, there's no comparison. Even though so many spoil-sports are always quick to remind me that it's the 'qualifiers'.
"They love to remind me that we're not able to play the Zadok the Priest music because it's a qualifier; we're not allowed to have the big fancy silk sheet being rumbled about in the centre circle because it's a qualifier.
"Nothing can take this magical moment away, this great feeling. The fans are really up for it, buzzing; everyone's just talking about the Champions League.
"The way it's looking, we may not get a very fashionable team in the first game. They would still probably be a team I'd have to concede would be good enough to beat us.
"But, if we could sneak through that, it suddenly opens out in the next round of qualifiers; we could get a major name of European football.
"The great consolation prize is that when or if we get put out of the Champions League qualifiers, we would parachute into the Europa League and only one tie away from getting into the very, very lucrative group stages.
"We missed that a couple of years ago against Odense. We narrowly lost out to them after hitting the post and missing a penalty at Fir Park. If that had taken us into the group stages, it would've been amazing."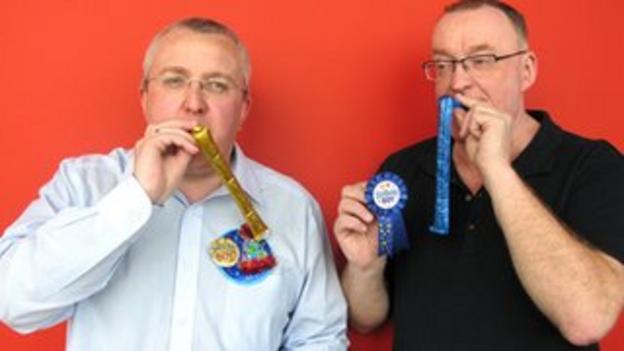 Manager Stuart McCall was keen to praise his squad's achievements this season, describing the effort as "outstanding from a terrific group of players".
"The players and supporters deserve it and so do the club," added McCall of the sojourn into European football's premier competition.
And Cowan believes McCall too deserves great credit.
"Stuart McCall hasn't had a penny to spend whatsoever," said Cowan.
"Our crowds have been poor. Even against St Johnstone, a game that was to all intents and purposes a Champions League qualifier for both clubs, we only got 4,500 in a game that was at 1500 BST on a Saturday.
"That just shows how much Motherwell have undoubtedly been punching above their weight this season.
"It beggars belief how Stuart McCall hasn't picked up one of the three manager of the year awards that were up for grabs, I think that's scandalous.
"Stuart McCall said he was a wee bit surprised that none of the Motherwell players were nominated for the player of the year award.
"But he quite rightly said, 'I take that as a compliment because that means we're a team, we're not a club that's full of individual talents'. In that respect, I would kind of agree.
"In terms of keeping them together, we're really hoping we can. We don't need to dangle too big a carrot in front of them because we do have Champions League football and I'm sure these guys would want to take part in that and have it on their CVs, whether it's the qualifiers or not.
"Suddenly, you're meeting up with loads of Motherwell fans at Glasgow Airport. Wherever you appear, be it Nancy or Bucharest, folk are meeting up in the town square. You go into a pub and over in the corner you see a guy with a Motherwell top, it's just really, really exciting."