The Sierra Leone league is suspended at halfway stage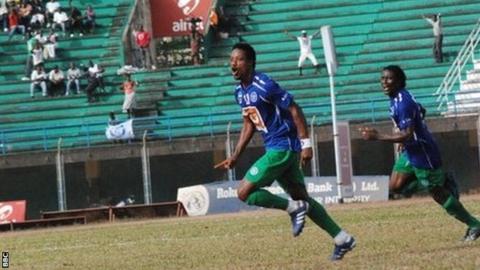 The Sierra Leone Premier League has been suspended indefinitely because of a lack of sponsorship.
The news comes as the country's national team makes gains in the Fifa rankings, moving above the likes of Nigeria, Cameroon and South Africa.
The first round of the league ended two weeks ago and the second stage should have have started this weekend.
"We do not have the money to start the second phase," Victor Lewis, Chairman of the Premier League Board (PLB) said.
"Until we have the cash the league will remain suspended."
Kallon FC, owned by the Sierra Leone footballing legend Mohamed Kallon, are currently top of the table.
"I'm disappointed to state that all the companies we've approached have let us down, with the exception of the cement company Leocem," Lewis said.
"We had difficult times running the first round of the league because of lack of sufficient cash - we only received money from Leocem, which was not enough.
"Some of us used our personal money to complete the first round.
"Things can't continue like this and I'm appealing to companies to come to our aid by rescuing the league from collapsing."
One of the companies approached to sponsor the league, local sports betting company Mercury International, explained they did not sponsor the league because the board had named it after a mobile phone company before approaching them.