Jonas Olsson puts West Bromwich Albion future on hold
Last updated on .From the section Football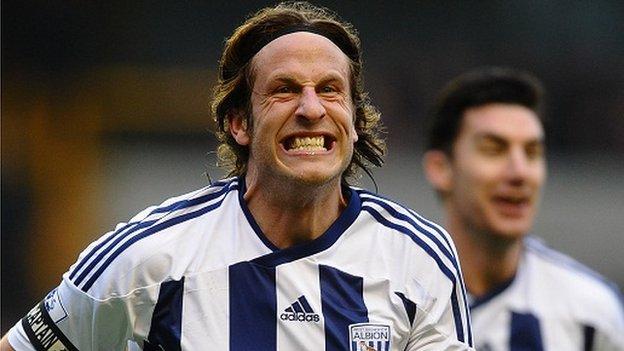 Player of the year Jonas Olsson has put his West Bromwich Albion future on hold until the club confirms the identity of Roy Hodgson's successor as manager.
The Sweden international defender has one year left on his Baggies contract.
The 29-year-old told BBC Radio WM: "There's a lot of factors when you're thinking about your future and one of them is the manager situation.
"I need to feel comfortable with it and I'll wait and see who they appoint. For now I am going to focus on the Euros."
Olsson relished working with Hodgson, whom he described as having made a huge impact during his time at The Hawthorns.
"He's a top manager in terms of inspiring players and organising teams," Olsson added.
"I think it's shown this season and the end of last season how well organised we have been. That platform has been the key factor of our our good season."
Albion finished a comfortable 10th in the Premier League.
Olsson continued: "The new manager will have to build on the platform we have built because I really feel the club is going in the right direction.
"I'm very happy here, I can see myself committing here, but there's a few things I need to know before I make that decision."
Olsson had sympathy for Albion reserve goalkeeper Marton Fulop, who was at least partly responsible for all three of the goals Albion conceded in going down to their last-day defeat against Arsenal.
"It's difficult being on the bench all year and then playing the final game against a good side like Arsenal. Marton is professional and I'm sure he'll bounce back," Olsson said.
He suggested the most pleasing aspect of Albion's season had been their performance in derby matches.
The Baggies beat Wolves home and away and, after drawing against Aston Villa at home, won 2-1 at Villa Park.
"We performed very well against all the Midlands clubs," he said. "I think that's something to be very proud of, and I'm sure the supporters are very proud and happy as well."