Burton Albion release quartet but Nathan Stanton agrees deal
Last updated on .From the section Football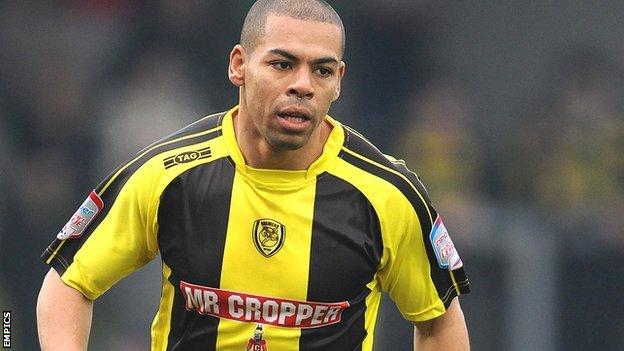 Burton Albion have released Ryan Austin, Adam Bolder, Tony James and Greg Pearson but have agreed a one-year contract with defender Nathan Stanton.
Centre-half Stanton, 31, joined from Rochdale in the summer of 2010.
"Nathan is exactly the type of character we need," said new Brewers managers Gary Rowett.
"He's whole-hearted and will do everything he can to stop a goal.
'I've also been really pleased with him as captain. He's taken that on board with enthusiasm and relish and we've seen a better Stanno for it."
Long-serving left-back Aaron Webster, 31, and midfielder Jimmy Phillips, 22, are also considering new offers and Rowett is hopeful they will sign on again.
"Aaron knows what's the club's all about, he's been around a long time," he said.
"As a manager I feel as though I need to get more out of Aaron. I'm very keen to see him stay. A fit and flying Aaron Webster who is fully committed is as good as any left-back in this division.
"We want to get that out of him every week and hopefully we'll be able to sort something out with him over the next few weeks.
"We've offered Jimmy a contract which we feel is fair and reflective of his performances. He's mulling over that offer with his agent so that's on the table."
Rowett said it was tough to tell Austin, James, Pearson and Bolder that they would not be retained.
"I'm finding out this isn't the nicest part of the job but you have to be honest," Rowett added.
Jack Dyer and Adi Yussuf have also signed new contracts, while Danny Blanchett, Andres Gurrieri, Kristian Ramsey-Dickson, Patrick Ada and James Wren have already been told they will not be offered new deals.