Gary Neville appointed England coach for Euro 2012
Last updated on .From the section Euro 2012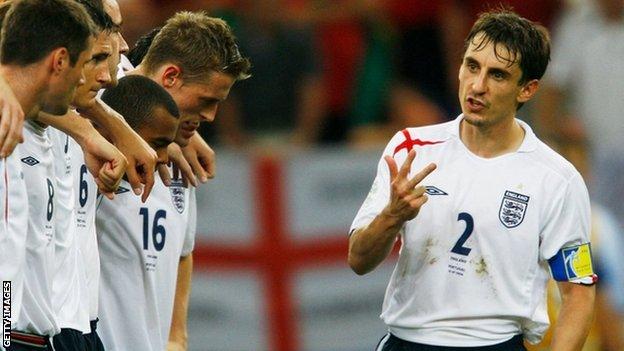 Former Manchester United defender Gary Neville has joined Roy Hodgson's coaching staff as England finalise preparations for Euro 2012.
The 37-year-old has signed a four-year-contract with the Football Association and will begin work immediately.
"Roy asking me to be a part of his staff and to work with the national team is not only an honour but a very special moment for me," Neville said.
"I had absolutely no hesitation in accepting this role."
Neville, who holds Uefa A and B coaching licences, added: "I am relishing the opportunity to work alongside Roy and the team at the Euros and through to the next two tournaments."
Neville made 85 appearances for England during his playing career and represented his country at Euro 96, Euro 2000, Euro 2004, World Cup 98 and World Cup 2006.
He captained United and won every domestic honour in the game before adding the Champions League in 1999.
"Gary has achieved so much in the game as a player with Manchester United and England," Hodgson said.
"He has obtained Uefa coaching qualifications and will be tremendously respected by the players because of his vast experience as a player.
"At my first meeting with The FA, I explained that Gary was someone I wanted as part of my staff.
"I think it is very important we have a younger coach who knows the dressing room and is very experienced at international level. That he has represented England as a player at five major tournaments will make him an invaluable member of staff."
After ending his playing career in 2010-11, he joined Sky Sports and has been widely acclaimed for his football analysis during his first season as a pundit.
Neville has been an outspoken critic of the FA at times and only last week admitted that Harry Redknapp would have been his choice for England manager.
Writing in his column for the Mail on Sunday, Neville said: "No one can deny that it was a shock on Sunday night when it became clear that Roy Hodgson had been approached to be England manager.
"Everyone had been lured into thinking that Harry Redknapp would get the job, and that is who I would have picked as my candidate.
"But once the initial surprise had gone and you examined their records, and their strengths and weaknesses side by side, it was impossible to say that Harry Redknapp's credentials were a million times better than Roy Hodgson's.
"They were both good candidates offering very different qualities for the job and you can make a good case for either.
"Though there has been a lot of negative reaction to the appointment of Hodgson in certain newspapers, I actually think that is going to work in his favour in rallying people behind him.
"When it comes to dealing with pressure, you don't get much more in club football than managing Inter Milan and Liverpool."