Charlton's Bradley Pritchard: From CVs to Championship
Last updated on .From the section Football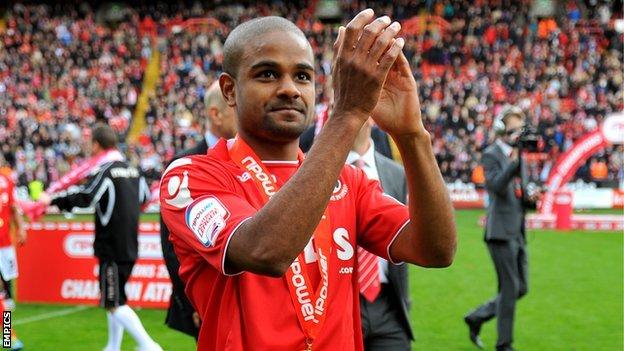 Little more than a year ago Bradley Pritchard was playing for Hayes & Yeading in the Blue Square Bet Premier, while also trying to find a 9-5 job after graduating from university. Now he is preparing for next season's Championship campaign with Charlton.
The 26-year-old, who studied sports science for five years, had spent his whole career in non-League football, playing while also doing his degree, which he finished in 2010.
"I played for Nuneaton and Tamworth during my time at Loughborough University," he told BBC Sport. "Once I finished my education I joined the thousands of graduates who left university and had no idea what to do next.
"So to earn some money while I was looking for that 9-5 job, I joined Hayes & Yeading.
"While I was at Hayes I applied for every graduate job available. I thought I'd spread my bets really and hope something would pay off. I did want to be involved in performance analysis within sport but, as they say, 'beggars can't be choosers'."
Pritchard scored 14 goals from midfield for the part-time London side that season and caught the eye of the Charlton scouts, who were also aware of his work off the field.
The Zimbabwean worked with the club as a performance analyst on a voluntary basis in 2010-11: "I collected all of the statistical data of the players and tried to find areas that were of particular significance. I also compared our style of play with opponents over the course of the season.
"I spoke with the management team mainly, although I did provide some feedback to individual players when and if they were interested in their own performances.
"That was the initial contact I had with the scouting department, who began watching me after a few good performances, according to some papers.
"Towards the end of the season I went in to train with Gillingham, then a few days later the Conference season finished, which is when I trained with Charlton for their final week. Dagenham & Redbridge had asked me to play in a friendly post-season, but once I found out that Charlton were interested, every other option became redundant."
He readily admits that he never expected to be snapped up by a Football League club at his age.
"The several job applications I sent out during my time at Hayes would clarify that I had no expectations of playing any higher than I was," he said. "The only expectations I had of playing in the Football League were through promotions. I didn't think anyone would want to take the gamble.
"There are many differences between my non-league and Football League experiences. They would go from drying my washed kit on the car radiator as I drove to training, to playing in front of 26,000 fans."
Afraid of being seen as "the analyst who just got lucky", Pritchard expected to be sent out on loan. He made only four appearances before breaking his metatarsal in September.
However after almost two months out, he came back and established himself as a regular - making a further 21 appearances, with 17 of those coming after the turn of the year, as Charlton won the League One title.
"With us signing so many players with the quality and experience that Championship clubs would envy, I anticipated very few opportunities to play," he said. "I thought I may have to go on loan early in the season to stay fit, but the gaffer [Chris Powell] spoke to me and said he didn't want me to go on loan and that I was part of his plans.
"That was a huge psychological boost for me because every player wants to be part of a team where he feels wanted.
"My original ambition when I signed was just to be accepted by the other players as another player, and not the analyst who just got lucky, but once I made my debut, my goals then changed, and all I wanted to do was play as many games as possible.
"But with all that in mind, I definitely didn't think I would have played in the games against both Sheffield clubs and then in the games where we won promotion and the title.
"This season for me started from complete ignorance. I didn't know what to expect and so I had no idea how things would go. The upcoming season is very much the same. All I can do is wait till I'm called upon, then give everything I have to help the team achieve and hope it is good enough. If I can do that and enjoy the experience that is afforded to me, then I will be satisfied on a personal level."
Pritchard's success at club level has led to an international call-up - for Zimbabwe, the country he left as a child.
"It makes me as proud and as humble as I could feel," he said. "I didn't think the Zimbabwean FA knew much of me, so a call-up was just as unexpected as the news of Chris Powell offering me a contract last year."