Danny Graham seeks Swansea City progress after debut success
Last updated on .From the section Football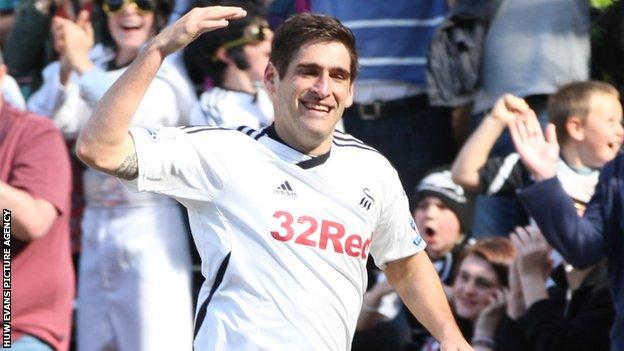 Striker Danny Graham has warned Swansea City cannot bask in the glory of their first season in the Premier League for too long.
The Swans ended a memorable debut season in English football's top flight with a 1-0 win over Liverpool to finish in 11th in the table.
Graham, 26, says Swansea will enjoy their summer break but warns there will be plenty of hard work ahead.
"We need to come back next season ready to go," he said.
"To finish 11th and have some big scalps along the way gives us a lot of confidence going into next season and hopefully we can take that forward. "
Graham scored the only goal of the game against Liverpool as Swansea ended their first season in the Premier League with their 12th win of the season.
"It caps off a great season for us," added Graham. "Everyone's on a high and rightly so - we've had a superb season.
"Everyone's pulled in the right direction. We're delighted now and we're going to enjoy a couple of weeks off."
Graham joined Swansea from Watford for a club record fee of £3.5m last June and ended the season as the club's top scorer.
He struck his 14th goal of the season with four minutes remaining to secure victory over Liverpool at the Liberty Stadium.
And the former Middlesbrough and Carlisle striker said he was well aware he needed one more goal to reach the milestone of 100 career goals.
"I count in my head most of my goals so it was nice to get [it against] a big club like Liverpool," said Graham.
"The most important thing was to get the win and to finish the season on a high.
"The longer it went on it was definitely going to be the one goal that won the game and thankfully we got that and gave us three points."