Ian Walsh fears for Cardiff City's future
Last updated on .From the section Football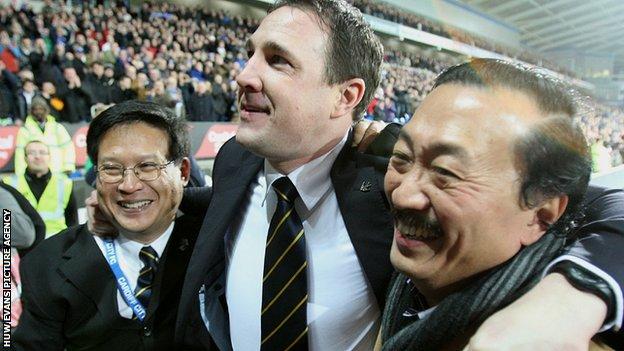 Ex-Wales forward Ian Walsh fears that his former club Cardiff City faces a bleak future if its Malaysian backers withdraw funding from the Welsh side.
Last week a proposed change of club colours from blue to red was greeted by vociferous opposition from some fans.
"These guys are genuine, honourable... go with them get a future, go without them and don't," said Walsh.
Main backer Vincent Tan was planning a multi-million pound investment with the rebrand, which also included a new logo.
That investment is now being reassessed after opposition from some sections of fans, with Tien Ghee warning the club must change in an open letter to fans, which also suggested a full review of the club's finances.
Cardiff reached the Championship play-offs for a third season in a row, as well as the Carling Cup final, but the riches of the Premier League ultimately evaded the Bluebirds once again.
That has added further pressure on a club whose historical debt is understood to be around £20m.
"They came in when Cardiff City nearly got to the Premier League; they missed out and the money that that brings in," Walsh told the BBC's Radio Wales Sport programme.
"They went again, they plough - allegedly - over £1m a month just to keep the club going.
"There are no other investors with that type of money in the locality that are going to help the club survive at that level.
"So they've... ploughed in £30-50m and we have to come up with an idea, where are we going to get the money?
"They know the Far East, they know Malaysia. So to promote Cardiff City, to change them slightly to enhance it out in Malaysia, to get the revenue from the merchandise, that's where they thought.
"There's a rule coming in next year that you can only spend a certain percentage of your turnover. They were trying to generate turnover."
Walsh believes that now Cardiff fans realise the full financial reasons behind the proposed rebranding, many will now reconsider their initial reaction to the rebranding proposal.
"If you took a straw-poll tomorrow about whether you play in a different colour, but your club goes forward, the majority of Cardiff City fans would want the club to go forward," Walsh added.
"The alternatives are having a chief executive going on his hands and knees up to the inland revenue, begging for two or three months delay in paying the tax bill.
"Maybe not getting the money for Malky [manager Malky Mackay] to improve the squad, or the ground, or the training facilities to entice new players.
"That ultimately means your best players going, the club suffering, the players suffering and do you want to go back to the days of 3,000-6,000 people [watching home games].
"This is a once in a lifetime opportunity for Cardiff City and I sincerely hope... a little bit of compromise here and there, everybody goes forward together because that is the future.
"They've had an illustrious 100-plus years of history, but the game economically now is on its backside and without finance you've got no chance."