Scottish Cup diaries - day one
Last updated on .From the section Football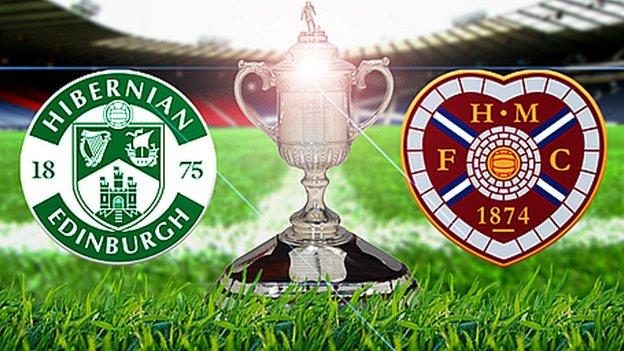 My name is Bob Henderson and I'm a 54-year-old working in the banking sector.
I've been joined at the hip with Hibs since the age of eight when my granddad took me along to my first game at Easter Road.
The game that made a big impression on me was against Hamburg in what was then the Fairs Cup. The atmosphere was amazing and I absolutely loved it, although I didn't understand that Hibs had gone out on the away goals rule after winning 2-1.
I took it for granted that there would be lots more of those European nights but, sadly, it hasn't quite worked out like that.
My favourite player at that time was Peter Cormack, a very stylish midfielder.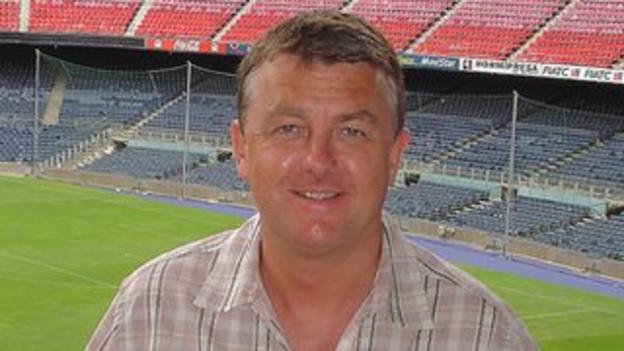 When you think of all the great players and teams Hibs have had over the years, it's ridiculous that we've gone so long without winning the Scottish Cup.
The football bug skipped a generation in my family because my father wasn't interested. However, my granddad used to rave about the Famous Five and he would go to Easter Road one week and Tynecastle the next, after he'd finished work on Saturday mornings.
At my work, it's probably half and half with Hibees and Jambos. The build-up has been low-key so far but there have been signs of it ramping up. Normally, the banter is flying before a derby but there's always another one along in five minutes.
This is totally different because the game is so important.
It's either going to be the best day of a fan's life or the worst.
Up until last Monday when we beat Dunfermline to make sure we stayed up, I'd been trying not to think about the final too much.
We put in a good performance that night and that has lifted my mood.
I'd describe myself as quietly optimistic.
There are four of us driving through to Hampden from Dalkeith - myself, a couple of brother-in-laws and a nephew. I sorted out the tickets, so someone else can do the driving and that will allow me a couple of nerve-settlers before we head off.
I'm Simon Rennie and I'm the 36-year-old licensee at the Royal Hotel in Penicuik, which is a good Jambo town.
There can't be too many Hearts fans raised in Leith but that's where I spent my first eight years.
I first started going along regularly in 1985/86, which was, of course, an unforgettable season. I didn't go to Dundee on the final day when the league slipped through our fingers. But I was at the Scottish Cup final the next week to see us capitulate to Aberdeen.
Despite the cruel disappointment at the end of a season that promised so much, I remember the fans singing and singing at the end until the players came out for a bow at Hampden and I think that says a lot for the attitude towards football on the east coast.
In those days, I would go along with neighbours and school friends and my favourite players were Sandy Clark, John Colquhoun and John Robertson - that was a cracking front three.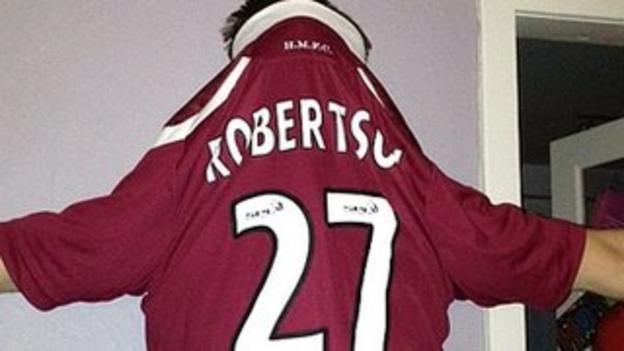 And Robbo always loved a goal against the Hibs. I've got a signed shirt with his tally of 27 on the back.
I don't get along as regularly as I'd like these days due to work commitments but I wouldn't miss this one for the world!
I've enjoyed a few good European jollies with Hearts. The nights in Bordeaux and Basle were amazing. We're already there this season but fifth-place feels a bit back-doorish, what with Rangers' troubles, so let's do it properly by winning the cup.
I've got a few friends that are big Hibbees and a lad that works for me part-time is Hibs daft. Sometimes I struggle to get him in for shifts because he's away watching his team and I always ask him why he's bothering.
The banter back and forward has been great. The Hibs fans are really noising us up - they think it's written in the stars that they will beat us to end their 110-year wait for the cup.
I'm personally organising a couple of buses from the hotel, one seating 74 and the other 29. We also sponsor the Penicuik Hearts Supporters Club and they'll be coming back after the final, so, fingers crossed, it will be a great night.
I'm quietly confident. If Hearts turn up, we'll be okay but over 90 minutes in a game anything can happen.
Simon and Bob were talking to BBC Scotland's Colin Moffat and they will be sharing their thoughts here throughout the week.