Paul Scholes signs new one-year Manchester United contract
Last updated on .From the section Football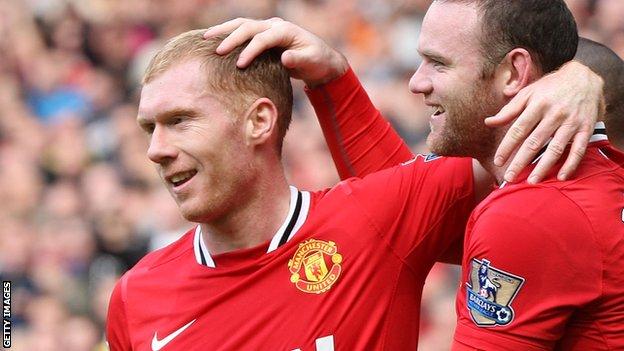 Manchester United midfielder Paul Scholes has signed a new one-year contract at Old Trafford.
"I am delighted. He knew he had made a mistake. He now realises if he plays 25 or 30 games next season, they will be of real quality," said Ferguson.
"I think this will be Paul's last season. We know how to use him."
Scholes announced his retirement in May 2011 after making 676 appearances for United.
He joined the United coaching staff, but subsequently came out of retirement to help Ferguson's side through an injury crisis.
"I'm delighted the manager feels I can still make a contribution to the team," said Scholes who made his return in the FA Cup win against Manchester City in January and made a further 20 appearances, with 14 starts and four goals.
Despite playing only half the season, Scholes came third in the vote for the footballer of the year award, behind Arsenal striker Robin van Persie and United team-mate Wayne Rooney.
Meanwhile, promising Manchester United goalkeeper Ben Amos, 22, has signed a new three-year deal which will run until at least 2015.