Manchester United chief executive David Gill says funds available
Last updated on .From the section Football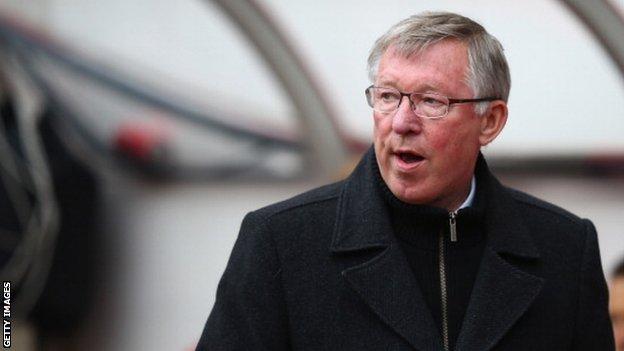 Manchester United chief executive David Gill insists the club have funds to challenge for the title next season.
Sir Alex Ferguson is keen to strengthen his side after missing out on the Premier League crown to Manchester City.
Ferguson has been linked with Borussia Dortmund duo Shinji Kagawa and Robert Lewandowski.
But he says he will spend wisely after claiming City "pay stupid money and silly salaries".
Ferguson also has Eden Hazard on his radar after watching the Lille midfielder on several occasions although City are also ready to move for the £30m-rated talent.
"We know City are going to spend fortunes, pay stupid money and silly salaries," said the United manager.
"We know that happens. We can't do anything about that.
"We are not like other clubs who can spend fortunes on proven goods. We invest in players who will be with the club for a long time, who will create the character of the club and the excitement for our fans.
"We are good at that and we are going to continue that way."
Ferguson and assistant Mike Phelan were in Berlin last Saturday to watch Japan midfielder Kagawa and Poland striker Lewandowski help Dortmund hammer Bayern Munich 5-2 in the German Cup final.
Gill said United have the finances to compete in the transfer market this summer as the club look to bounce back from missing out on a record 20th title on goal difference to City.
"Funds are available without a doubt," said Gill, who was speaking at the club's player of the year awards night on Monday.
"We can still pay very well in terms of wages and transfer fees.
"Clearly City have raised the bar. We have seen that with what they are prepared to pay for players and to them.
"But we need to move on. Financial Fair Play is just around the corner.
"It is a flagship programme for [Uefa president] Michel Platini and how that is implemented and the sanctions that are imposed are going to be interesting."
Meanwhile, City chairman Khaldoon al-Mubarak has hinted the Blues may not spend as much as they have in recent close seasons.
As well as Hazard, manager Roberto Mancini has been linked with a move for Arsenal striker Robin van Persie.
"We have a championship-winning team," said Khaldoon in an interview on City's official website.
"We are not starting from the same point as in other pre-seasons.
"We have had to improve in a very dramatic manner. Now we have a nucleus. To improve further we have to harness that nucleus."