Aston Villa treated Alex McLeish harshly - Ron Atkinson
Last updated on .From the section Football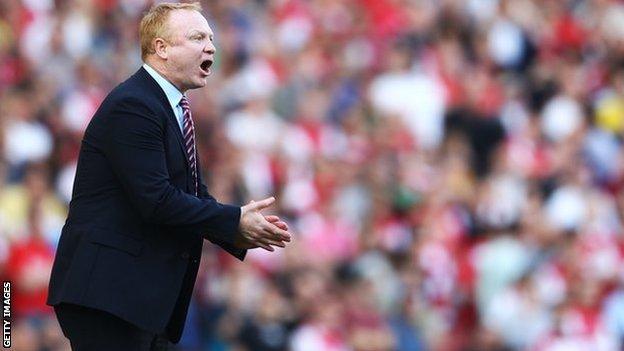 Sacked Aston Villa boss Alex McLeish was never given a chance to succeed, says former manager Ron Atkinson.
The ex-Rangers, Birmingham and Scotland boss was sacked on Monday after Villa finished 16th in the Premier League with just four home wins all season.
"From day one, he's been swimming upstream," Atkinson told BBC Radio 5 live. "I think there's a big hangover from the fact he came from Birmingham.
"I don't think he's been given a fair crack of the whip."
He added: "If he'd come straight down from Rangers, everyone would have said he's a great signing for them."
Atkinson, who managed the West Midlands club between 1991 and 1994, leading them to the runners-up spot in the Premier League's first season in 1992-93 and the League Cup in 1994, said McLeish never had the players or investment to make a success of his time at Villa.
"They need some stars there, because the fans love that - they want to see players that add a bit of glitter to their weekend," he continued.
"All they've seen this year is a manager having to work with some very ordinary, mundane players. It's the most bereft Villa team I've seen since the start of the Premier League.
"The new England manager is likely to pick an England squad containing six or seven players who've all been Aston Villa players in the last few years. And they've gone."
But Atkinson insisted the job was still a prestigious one.
"Definitely, without a shadow of a doubt," he said. "At the moment, it badly needs investment; it badly needs quality.
"A club of the magnitude of Aston Villa can't keep selling players and not replacing them with good quality."
Former Villa midfielder Ray Houghton echoed the views of the man who brought him to the club, arguing that Villa's American owner Randy Lerner "knew it was going to be contentious" when he recruited McLeish from city neighbours Birmingham.
"I think Alex was unlucky," he told BBC Sport. "I don't think the fans ever took to him coming from Birmingham. I felt he was hampered. The squad isn't strong enough."
Houghton, who played more than 100 times for Villa from 1992-1995, also said the vacant Villa post was a good but "extremely tough" one, and warned that fan expectations needed to be more modest.
"Whoever takes over will have an extremely tough job as I don't think any money is going to be made available in the summer. The next manager is going to have to know what he's working with and what the expectations are," he said.
"It is a very good job for someone. But you have to bring in the right manager who's used to working at a lower level or knows the lower league. I think the expectations from the fans have to be tempered and they have to look at the situation more realistically."
Sunderland's former Villa boss Martin O'Neill also expressed his sympathy for his successor.
"It was a difficult season," he said. "I know he went into it with eyes wide open, and it was always going to be a hard job, but nevertheless it's disappointing.
"I will give him a call when times smooth over a little bit."
Meanwhile, one of the men tipped to succeed McLeish, Wigan manager Roberto Martinez, described talk of his leaving the DW Stadium as "speculation".
"All that counts is the good of Wigan Athletic," said the Spaniard, who turned down an offer to move to Villa Park last summer.