AFC Bournemouth: Warren Cummings let down by club
Last updated on .From the section Football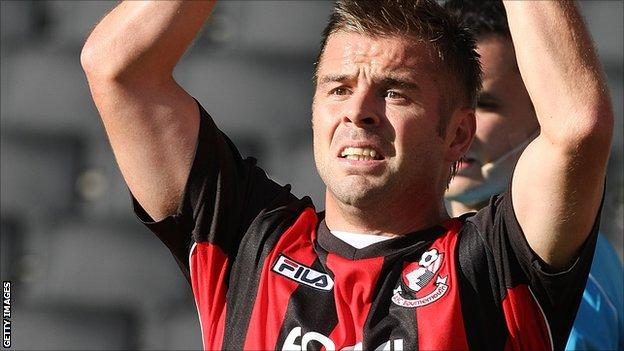 Long-serving Bournemouth defender Warren Cummings says he feels let down by the way his Cherries career was ended on Monday.
Club captain Cummings, 31, made 302 appearances over a 10-year period for Bournemouth, but was one of a number of players released.
And Cummings revealed his Cherries career was ended by a short phone call.
"After 10 years I probably deserved more than a 30-second phone call," Cummings told BBC Radio Solent.
Cummings was released along with defender Mathieu Baudry and forwards Lyle Taylor and Michael Symes as well as keeper Jordan Seabright on Monday.
Defensive coach Ryan Garry and sports scientist Louis Langdown was also shown the door.
"I got a phone call on Monday morning from (manager) Paul Groves but I half-expected it to be honest with you," Cummings told BBC Radio Solent.
Cummings, who was involved in two promotions with the club including the 2003 play-off final, added he felt he deserved better from the club.
"I've phoned the chairman (Eddie Mitchell) and told him that so I'm not saying anything he doesn't already know," he continued.
"There's ways of dealing with people and it is only respectful and professional. In these situations, no-one likes to give out bad news but I think face-to-face would have been far better."
Cummings says he has no intention of retiring and believes he has "three or four years" left in him and says the 2003 play-off final at the Millennium Stadium was the highlight of his Cherries career.
Despite being let down by the way he was released by the club, Cummings says he still wants Bournemouth to "flourish and become a Championship club".
"The owners are very ambitious, we have seen that with the amount of money they have spent on players," he said.
"Eddie has had a turbulent time under his tenure but he has good plans and I think he will take the club forward. He strives for success and that can only be a good thing for Bournemouth fans."