Arsenal's 'Invincibles' voted greatest Premier League team
Last updated on .From the section Football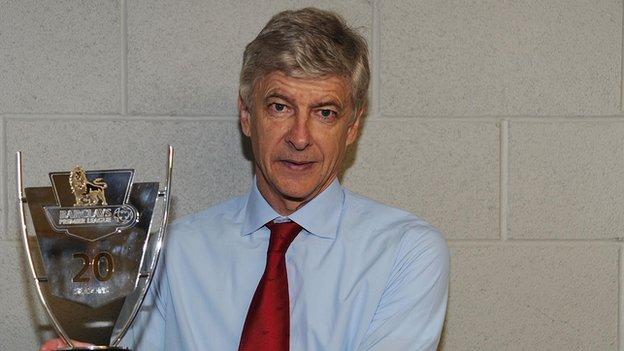 Arsene Wenger has set his current squad the target of emulating the heroics of Arsenal's 'Invincibles' side.
Wenger's class of 2003-04 has been voted the greatest team of the era as part of the Premier League's celebrations of the last 20 seasons.
Arsenal ended that season unbeaten in the top flight as they cruised to the title with an 11-point winning margin.
"My target is to get back to that, to get back to that level," said Gunners manager Wenger.
Blackburn's title-winning side of 1994-95 and Manchester United's treble winning team of 1998-99 were also in the running for the award.
But the legendary Arsenal side, captained by Patrick Vieira, came out on top.
"I am proud of that - and very happy," said Wenger.
"I told the players at the time they can achieve something special by becoming champions and being 'invincible' - and they did it. At the time they didn't realise how much it could mean in the future, but I am very proud of them."
Arsenal are planning for another Champions League campaign after finishing the current season in third place.
The 19-point gap between the Gunners and the top two, Manchester City and Manchester United, will be of concern to Wenger as he prepares for next season.
However, the 62-year-old Frenchman believes his current squad have the potential to replicate the success of the 'Invincibles'.
"I feel personally we are not far from coming back to fight for the championship, let's hope we can show that next season," he added.