Botswana squad back in training despite not being paid
By Mtokozisi Dube
BBC Sport, Gaborone
Last updated on .From the section Football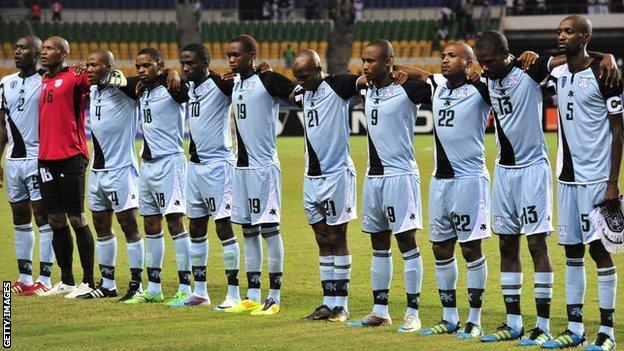 Botswana's senior players have agreed to end their strike and begin preparing for June's 2014 World Cup qualifiers.
Their decision comes despite still not being paid bonuses from this year's Africa Cup of Nations.
"Of course the players are still unhappy but the most important thing is that they have agreed to come and start training," coach Stanley Tshosane said.
The players had vowed not to play for Botswana until they got their money from Equatorial Guinea and Gabon 2012.
Last month, Tshosane had to call up 25 local-based players for a training camp in Gaborone as the key players refused to attend.
Tshosane is pleased that the players had changed their minds after dialogue with Botswana Football Association (BFA) officials recently.
"We needed such a response so that we can move forward because the qualifiers are only a few weeks away," he explained.
The Zebras will play their first international friendly of the year when they take on Lesotho in Gaborone on 23 May.
Botswana kick off their 2014 World Cup campaign away in Central African Republic on the first weekend in June before hosting neighbours South Africa a week later.
The Zebras' South Africa-based stars will not be immediately available for the training while injury has ruled out captain Mompati Thuma.
Mochudi Centre Chiefs' striker Pontsho Moloi has said he does not want to be part of the campaign.
"I spoke to the coach and explained that I am tired. I just need some rest," he said.
Diphetogo 'Dipsy' Selolwane had already announced his retirement after the Nations Cup finals.