Reading takeover by Anton Zingarevich an 'ongoing process'
Last updated on .From the section Football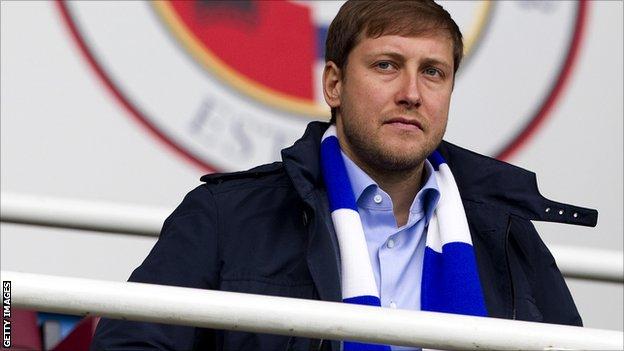 Russian tycoon Anton Zingarevich's takeover of Reading has still not been approved, two months after the club's original target date for completion.
Sir John Madejski announced in January he was selling to Zingarevich and the deal was due to be approved in March.
But Reading's promotion meant the deal needed Premier League approval which Madejski said would be given in April.
On Tuesday, the Premier League told BBC Sport that "it is an ongoing process" with no deadline made.
It is nearly four months since Madejski - who has owned Reading for 22 years - announced he had agreed to sell 51% of the club to Thames Sports Investment, led by Zingarevich.
Speaking in April, Madejski calmed any fears that there was a hitch.
"We want to make sure that the deal is completely watertight for the sake of the club going forward. But that should all pan out," he told BBC Sport.
Initially only the Football League needed to approve the deal but following April's promotion, the Premier League have now also had to ratify the proposed takeover, meaning a second set of tests.
Those 'fit and proper persons' tests involve an 'owners and directors' check which includes a face-to-face meeting between the Premier League, Zingarevich and all representatives of TSI.
The test also requires Zingarevich and TSI to provide proof of current and future funds as well as budgets and a business plan.
TSI is not a company or limited-liability partnership incorporated in the UK, making inquiries less straightforward.
Despite the issues, Madejski and Zingarevich - who spent last week on holiday in Miami - have continued to put on a united front but it is understood Premier League approval is not imminent.
"There are a couple of formalities to complete, and it is all on course and I hope it is going to happen very soon," Zingarevich told BBC Sport on 18 April.
Madejski added to BBC Sport two days later: "With all intents and purposes the deal will be completed next week."
Manager Brian McDermott has already drawn up a short list of new recruits and has spent the past month since Reading won promotion scouting across Europe.
The club told BBC Sport on Tuesday they were still waiting on the Premier League to approve the deal, adding "they quite rightly have to do their checks".