Mancini: Real Madrid & Barcelona are Man City's benchmark
Last updated on .From the section Football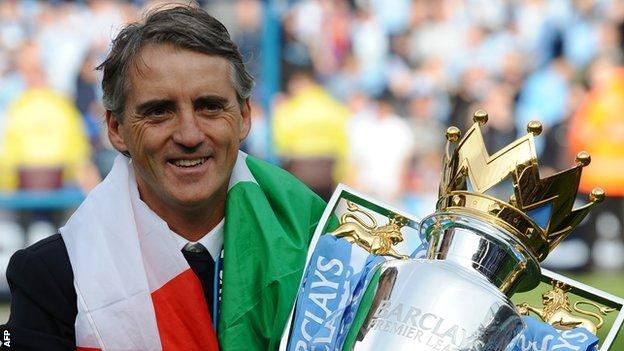 Manchester City will emulate Spanish giants Real Madrid and Barcelona this summer by spending heavily to target Champions League success, boss Roberto Mancini has promised fans.
Mancini told BBC Sport: "Barcelona and Real Madrid every year buy two or three players and spend a lot of money.
"I think for Manchester City it will be the same.
"We need to improve. We need to have the strength to play Champions League and Premier League."
He added: "For this we need to have a good team, a strong team with a good mentality, but I'm sure we will do it."
Real Madrid and Barcelona have spent an estimated total of £105m each, over the last two seasons, to recruit players.
Barcelona bought David Villa for £34.2m in the summer of 2010 while, 12 months later, they spent a similar amount on signing Cesc Fabregas.
Madrid's big outlay followed their 2009 spending spree, which included bringing in the likes of Cristiano Ronaldo (£80m), Kaka and Karim Benzema for a combined total of more than £170m.
City have the spending power to match the Spanish giants and, as Mancini plans an assault on European glory, he is pleased with how his side have dealt with the pressures of the Premier League this season.
He says City - top-flight champions for the first time since 1968 - are worthy winners of the title, pointing out that, unlike close rivals Manchester United, they were never beaten heavily by anyone.
"We lost 1-0, 1-0, 1-0 - always games we could win," he said. "Manchester United lost 3-0 to Newcastle and 6-1 against us, but we never had a game like this.
"Against United in the FA Cup, when we lost 3-2 at home, in the second half [it was] 11 players against 10, but we had three or four chances and they did not have any."
Noting also that City had beaten their neighbours home and away in the league, he added: "We worked very hard. We deserved to win this."
And he says that, even when City fell eight points behind leaders United with just six games remaining, from which point on he repeatedly insisted in public that the title race was over, he never entirely lost hope.
"After [losing to] Arsenal, I thought it was going to be difficult - but I thought it was impossible that United were going to continue to win," he said.
In an exclusive BBC interview, the 47-year-old reflects on a title-winning season not without its share of troubles, but insists his relationship with strikers Carlos Tevez and Mario Balotelli remains good.
Tevez, 28, did not play for City for six months after Mancini claimed he failed to warm-up in the 2-1 defeat at Bayern Munich in September, while Balotelli was sent-off twice during the course of the season.
"It's not difficult to manage Tevez," he said. "He's a good guy. We had a good relationship always.
"I don't know why we had that situation in September but in the end he's a good guy and a fantastic player."
He also believes the Argentine's return to the team for the title run-in, after an unauthorised absence in Argentina, had helped tip the title race in City's favour.
"No question he made a difference. Carlos is an incredible, top player," he said.
For Italian striker Balotelli, his countryman has words of caution.
"Mario is different, he's young, but an incredible talent," Mancini said.
"He's young, and for this reason sometimes he can have bad behaviour - it's normal. But it's important for him to understand he can lose his talent.
"He can play football for another 10 or 12 years. I hope that now, after this title, he can understand that it's better that he starts to work in a good way."
And of Sunday's dramatic ending to the season, he joked: "I'm 47 - after the game, 97!"