Chairman Dato Chan Tien Ghee reassures Cardiff fans
Last updated on .From the section Football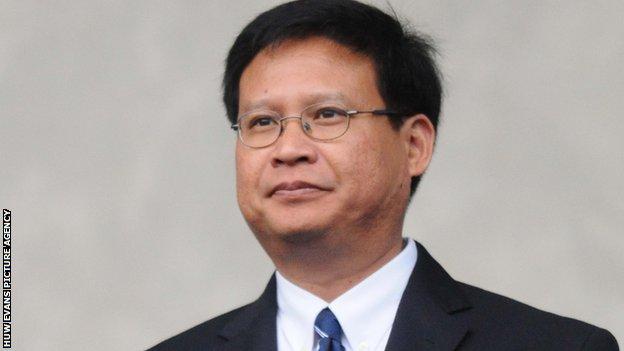 Chairman Dato Chan Tien Ghee has completed his fact-finding meeting with the Cardiff City board before he returns to Malaysia to meet investors.
That protest has jeopordised investment plans and Tuesday saw a lengthy board meeting to discuss the club's future.
"We have nothing but the best interests of the club and its supporters to heart," said Tien Ghee in a statement.
The statement continued: "[We] will look to conclude matters as soon as possible to the best possible outcome."
Main backer Tan Sri Vincent Tan had planned a multi-million pound investment with a rebrand, from a blue to red kit and a new logo proposed that would have made the Championship club more appealing in the Far East.
That investment is now being reassessed after opposition from some sections of fans, with Tien Ghee last week in an open letter to fans warning that the club must change and also suggesting a full review of the club's finances.
The chairman met the Cardiff board to discuss future plans for the club and the fallout of the last seven days at Cardiff City Stadium, and relayed the views and opinions of the club's Malaysian investors, including those of Vincent Tan.
Tien Ghee plans to fly to Malaysia on Wednesday morning after his fact-finding mission with all views and documentation of recents events before any decision will be made on the future of Cardiff City.
"I would like to reiterate the commitment, warmth and great affinity that remains for this club from Tan Sri Vincent Tan and myself," added Tien Ghee in the statement.
"I would also like to personally thank the many who have sent in messages if heartfelt support and appreciation, either directly or via the club."
Cardiff reached the Championship play-offs for a third season in a row, as well as the Carling Cup final, but the riches of the Premier League ultimately evaded the Bluebirds once again.
That has added further pressure on a club whose historical debt is understood to be around £20m.