Aston Villa want manager to restore vibrancy - Paul Faulkner
Last updated on .From the section Football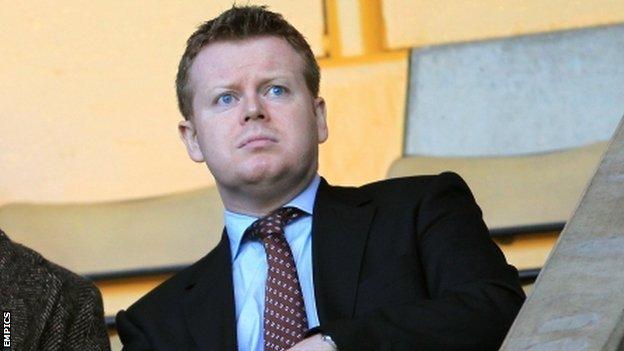 Chief executive Paul Faulkner is targeting an appointment to refresh Aston Villa after admitting the "disaster" of relegation came too close under Alex McLeish.
Villa are searching for a fourth manager in just over two years after McLeish was sacked on Monday.
Faulkner already has a clear idea of what Villa are looking for.
"We want to find someone to reinvigorate the club," he told BBC Sport.
"We want someone to bring some vibrancy back to Villa. That's what we need and that's what we're going to get. A disaster would have been getting relegated but this was too close for comfort."
Former Birmingham manager McLeish faced supporter discontent as soon as he arrived at Villa Park from arch-rivals Birmingham 11 months ago.
Villa endured a disappointing campaign that saw them finish 16th in the Premier League, just two points above the relegation zone.
Faulkner accepts Villa went for the wrong man after Gerard Houllier's ill-fated tenure.
He added: "It's using hindsight. We've had to make the change with Alex now and you're constantly evaluating yourselves.
"The season didn't go the way we would have wanted and we have to look for reasons why that may be. If we were happy with mediocrity or a season like this, then we wouldn't be making changes."
Martin O'Neill guided Villa to three consecutive sixth-place finishes before leaving the club in August 2010.
Owner Randy Lerner replaced O'Neill with former Liverpool boss Gerard Houllier, who struggled for results and also suffered health problems before leaving in June last year.
But Faulkner has defended Villa's methods despite them having to embark on a search for another manager.
"It's a slightly unfair statistic because, in those two years, one manager resigned and one had significant health problems. This season didn't go as we had planned but the key for us is moving forward," he said.
"The key is making the right decision this time and finding a good manager that is going to reinvigorate Aston Villa.
"We look to the future and we desperately want some stability here. We want someone here for a long period of time to build their team, their squad to knit into our club and that's what we're searching for."