Scottish Cup day of destiny awaits Hibs after long, long wait

By Chick Young
BBC Scotland football pundit
Last updated on .From the section Football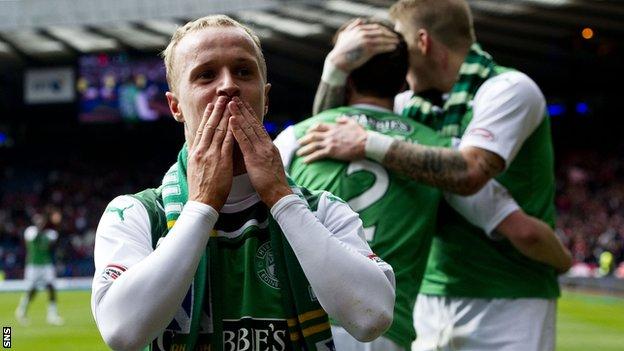 There is no point in messing about. I laugh in the face of procrastination: I am not a Rangers administrator. Hibs, it's got to be Hibs.
Saturday, 19 May 2012 will be their Manchester City moment, the binning of history, the removal of the right by Hearts fans to rip the knitting right out of them.
It shouldn't happen, of course. Heart of Midlothian are a better team with more gifted players. They have a wise coach with a determined style who may yet not be embraced by Vladimir Romanov for future campaigns.
"I'll stay, but they do not seem to want me," was more or less what he said in a recent interview with your old reporter.
How can that be?
Paulo Sergio and his steely gaze and impish sense of humour have steered Hearts in grand style through wage-less days, watching players leap for the lifeboats and yet the sanctuary of Europe still beckons.
But he will be mugged by fate this summer Saturday. It is written in the stars.
Much has happened in the 110 years since Hibernian lifted the old trophy. World wars, plagues and pestilence, Elvis, Marilyn, John, Paul, George and Ringo, Dallas (President Kennedy) and Dallas (Celtic Park).
Kings and queens have come and gone, man has walked on the moon and various jetsam and flotsam of Scottish football have won this competition. Third Lanark, Partick Thistle, Falkirk, Airdrie and Clyde. East Fife for heaven's sake!
Meanwhile, Hibernian had not a touch on the Scottish Cup. Notwithstanding a Famous Five, Stanton, Blackley, Brownlie even Best and Sauzee could do no better than look at the old girl with lust.
That cannot go on for ever.
It is a final of fear all right, both sides maybe more petrified at the prospect of losing than joyous at winning. There will be a haunted look on half of Edinburgh this Saturday tea-time. The you'll-have-had-your-fun final.
But I thank them for saving our season, may the good Lord bless Hearts and Hibs for giving us a send-off to a term which was miserable at times, plagued with financial despair, dark threats, petty politics and the total rejection of the concept that this is, actually, only a game.
This is not just a day for the capital. We are all enthralled just as all of England - and beyond - held its collective breath for the remarkable showdown between Manchester's finest. This is theatre, this is what our great game is really all about.
I see the touts are at it. Trying to flog tickets for outrageous prices. Of course, this column would never be responsible for lynch mob thinking, but you can understand people wondering about how to tie a noose...
May the sun shine on Hampden as surely as those who worship down the Easter Road will be praying it does on Leith in the days to come, sparkling on the famous silverware.
Hearts will argue that it is not about fate, but about players and that their line-up will be vastly different from the selection that rolled over at Celtic Park on Sunday. And they could be right.
But they would do well not ignore the fact that Hibs looked a refreshed team against Dunfermline in the game which dragged them safely to the SPL shore.
Omens don't win football matches. Neither do witch doctors, lucky mascots, not walking on cracks on the pavement nor kneeling by your bed at night. It is about players, not prayers.
Except I just can't help feeling it. This time, there is something in the air...
BBC Radio Scotland's Sportsound continues the Scottish Cup final build-up live from Tynecastle on 15 May, 1810 BST, and at the same time from Easter Road on Thursday.