Hereford United 'struggling' to pay wages this summer - Keyte
By Trevor Owens
BBC Hereford & Worcester
Last updated on .From the section Football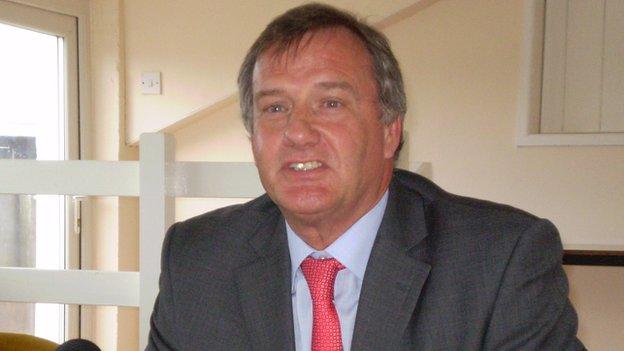 Hereford United chairman David Keyte admits that the relegated League Two club will face a tough time paying their wage bill this summer.
"We're struggling this summer as we're now in the period of time where we have got two or three months left of wages," he told BBC Hereford and Worcester.
"A player who is not being given a contract for next year has a contract through until 30 June.
"If he has not secured another job, we have to pay another month's severance."
Other than the minimal income provided from the Bulls' social club at Edgar Street, the only money expected into Hereford's coffers this summer will be a parachute payment from the Football League until the new Blue Square Bet Premier season starts on 18 August.
"At a time when the football fixtures, and so the income, has stopped, we have got a cash flow situation to cover for the next two and a half months," said Keyte.
"We used to get £100,000 in August and then the same again in January from the Football League fund but I think the equivalent funding now is £50,000, so we are going to have to cut our cloth accordingly."
And, following a week in which manager Richard O'Kelly has opted not to stay with the side, and three backroom staff - Jamie Pitman, Richard Sneekes and Russell Hoult - have gone, Keyte has warned of the impact lack of funds will have on player recruitment.
"The people coming in have probably got to be younger, cheaper players, so there won't be many star names," he said.
"There are quite draconian measures needed now to get through to make a start next year but, on the upside, once we get there, Hereford United does have the chance of being a bigger fish in a smaller pond.
"I would like to think above all that we see our fair share of wins at Edgar Street and a few goals and that we are pushing for promotion but, cash-wise, we have got to get to August first."
Approaching the second anniversary of his appointment as chairman at Edgar Street, Keyte admits that there are times when he wonders why he took on the job.
"You wake up in the morning and wonder how much you have got to find to get the club through the next week," he added. "Although I do firmly feel there are sunshine days ahead.
"We have got to get through the next two or three months to start to achieve that and that does drag you down a bit.
"There is just not enough of a base of people trying to keep it going.
"But we'll give it our best shot. We'll certainly be doing that."