Berekum Chelsea out to surprise in Champions League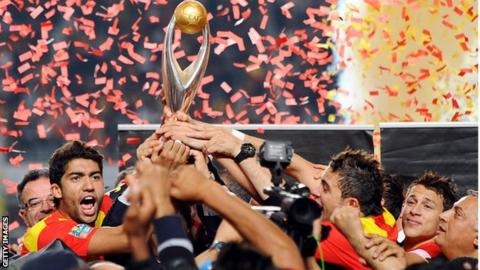 Berekum Chelsea's attacking football will cause surprises in the African Champions League says the Ghanaian club's International Relations Manager, Joe Addo.
On Tuesday they were drawn in Group B to face three former winners.
They face Egyptian duo Al Ahly and Zamalek as well as TP Mazembe of DR Congo, who have 15 titles between them.
"We have to go with our strengths and our advantages which is attacking football," Addo told BBC Sport.
"I know they have watched us and know our strengths and weaknesses.
"All we have to do is limit our mistakes and see if we can pounce on their mistakes."
Berekum qualified for the group stages thanks to a 2-1 win away in Cameroon over Coton Sport after a goalless first leg in Ghana.
The team from western Ghana are making their debut in the Champions League and hope to use that to their advantage.
"We can take them by surprise. I know they are going to underrate us, we are minnows compared to them," Addo said.
"We are going to attack from beginning to end.
"If we are able to win our home games and try to limit our away games to a draw or a narrow loss we can reach the last four."
Addo admitted the task ahead will not be an easy one.
"It's very very tough but we knew that after the qualifying stage it was going to get tougher," he said.
"So this didn't come as a surprise to us - I think it's a big challenge for the coaching staff, the management and the players.
"Hopefully we will be able to go all the way."
Berekum are hoping to emulate Ghana's two biggest clubs, Hearts of Oak and Asante Kotoko, who have both been crowned African champions in the past.
Hearts won the title in 2000 while Kotoko were victorious in 1970 and 1983.