Euro 2020: Mark Palios says Celtic trio's bid could win Uefa support
Last updated on .From the section Football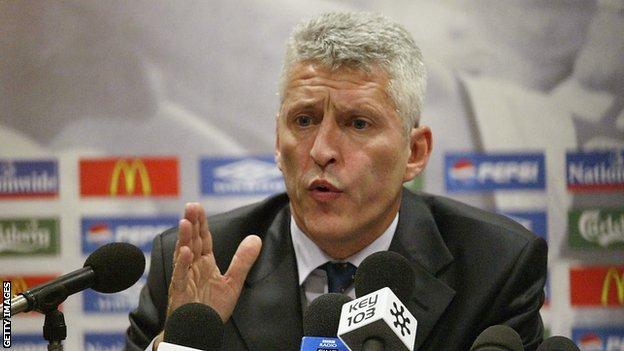 Mark Palios is optimistic a joint bid by Scotland, Wales and the Republic of Ireland to host Euro 2020 could gain support from many smaller Uefa nations.
Wales have not competed at a major finals since the 1958 World Cup but would be guaranteed a place as host.
Ex-Football Association chief executive Palios believes that route would also appeal to smaller countries in future.
"Because of the break-up of the USSR we now have a lot of smaller countries around the piece," Palios said.
"Certainly in terms of football pedigree and history... there are other countries out there that would... see this as a route to qualify and play in a major tournament.
"They're in the same boat that they may not be able to qualify for major tournaments.
"Therefore they [the tri-Celtic bid] would probably garner some support within Uefa from those block of countries that would see this as a way of them hosting a tournament and then taking part in a tournament."
Bids from two neighbouring countries have become common, with Austria and Switzerland co-operating in 2008 while Poland and Ukraine will host the 2012 tournament.
European football's showpiece will return to a single host with France in 2016, but the competition will be expanded from 16 teams to include 24 teams at the finals.
"While there has been a tendency to support joint bids, which means you have two automatic qualifiers... the fact that you're going to have three teams now who qualify [automatically] may cause people to look askance at it," Palios said.
"Having said that, I think beyond 2016 we're into 24 teams and therefore it's a bigger tournament per se so maybe they can accommodate that.
"Having extended the competition to 24 teams... solo bids from, with all due respect, small countries are just not do-able so in the past we have seen joint bids."
Palios believes that the expansion of the number of countries qualifying for the European Championships may in future rule out all but the biggest nations from solo bids.
Unless there are late bids before Tuesday's midnight deadline for a formal declaration of interest, the decision will come down to a three-horse race between Turkey, Georgia and Scotland-Wales-Ireland.
While England is not expected to enter its own bid, Palios believes his former employers at the FA would support their Celtic neighbours' ambitions.
"Across the UK and Ireland, anything that brings a major international sports tournament to our shores is welcome and I think everybody will support it," Palios said.
"The FA is always supportive of the other home nations when they can be, and similarly in the past the other home nations have been supportive of the FA when they can be with the political ramifications of that within Fifa.
"So I think the FA would be supportive and football supporters generally, especially ones around the borders of the countries who possibly have grounds that may see some international football there.
"Between them the three countries can effectively muster sufficient stadia to host the tournament and the logistics moving around across Ireland, Scotland and Wales are not significant.
"If you look at the logistics of moving across Poland and Ukraine it's far more difficult there.
"It's a sensible step... to notify their interest before the deadline tonight and it leaves them the opportunity to then put the detail on the plan.
"I think there was a joint bid between the Irish and the Scots for 2008 and they didn't even make the last four, and that would be worrying me.
"Presumably they will look closely at the bid and closely at the reasons they didn't make it to the last four and learn lessons from that."