Scottish Cup diaries - day two
Last updated on .From the section Football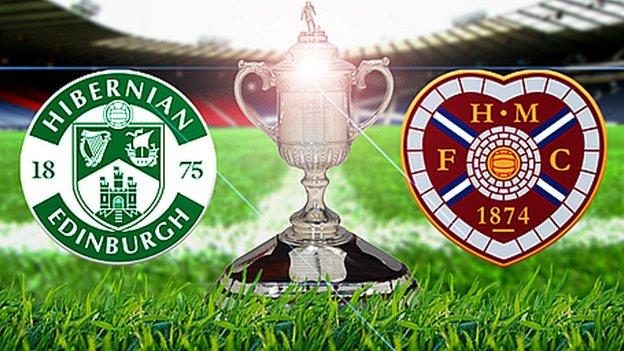 Hearts supporter Simon Rennie and Hibs fan Bob Henderson continue to share their thoughts with BBC Scotland in Scottish Cup final week.
Simon Rennie, Hearts fan
Well, a few of us Jambos have already had our hands on the Scottish Cup!
The old trophy was on show when I went along to BBC Radio Scotland's cup final special at Tynecastle and I couldn't resist it. Not many people get the chance to say they've lifted the trophy and I hope Marius Zaliukas will be doing the same on Saturday.
It was a great night. So many people turned up they had to move it to the Roseburn Stand from one of the stadium suites. One of my heroes, John Robertson, was on the panel and he was in bullish mood, although he warned against over-confidence.
He said if we turn up, there will only be one winner and I've got to agree with that.
Gary Locke [first-team coach] was also speaking but he was restrained and he didn't go anywhere near the trophy.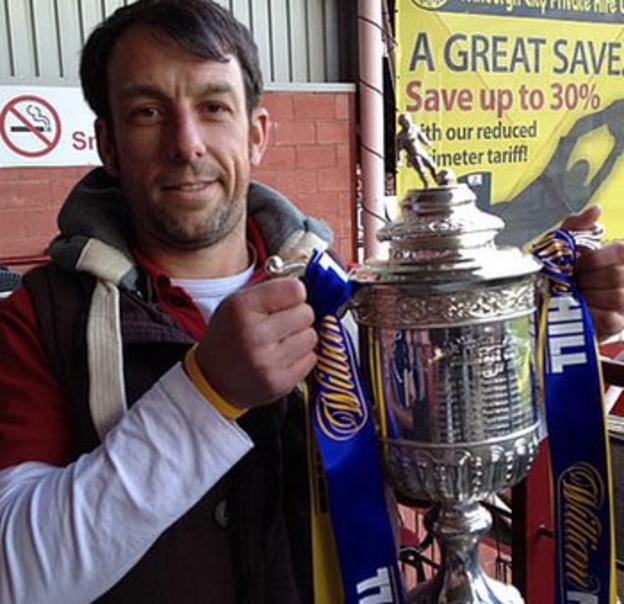 A few of the other fans avoided it as well, not wanting to jinx anything, but I'm not superstitious at all. I think a lot of that just boils down to fear.
Jim Traynor and Chick Young made up the panel and they were good value, although there were a few boos for that pair, especially when wee Chick tipped Hibs.
I've been kept busy with the two buses I'm organising for the big day but I've rounded up all the money now and we've pulled off a coup with a very special guest.
We'll be joined by none other than 1998 Scottish Cup winner Colin Cameron.
I'm really looking forward to seeing him and his presence will get the crowd going before the buses set off from Penicuik at noon.
It's been a bit hectic organising everything but the buses were booked out in no time and it's helped keep my mind off things as well.
I was on holiday with my wife and daughter recently and thoughts would randomly pop into my head about the final. Then I would think 'We'll be okay' and I still think we will.
The countdown is well and truly underway and there is a wee knot in my stomach now. I got a few texts from Hibs fans after they saw me on the BBC Sport website but I won't tell you what they said!
Bob Henderson, Hibernian fan
I slept well last night but the nerves started properly creeping in for the first time today.
By Friday, I'm sure I'll be feeling like a kid at Christmas, although I'm not sure I'll get the present I've been asking for.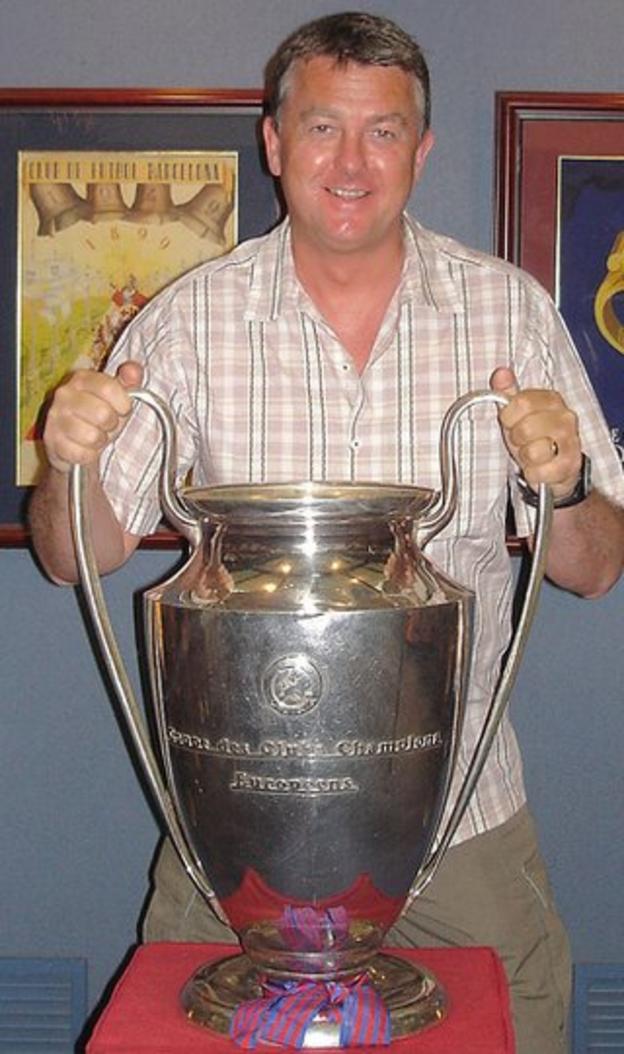 There is still a reluctance to start dishing out the pelters among the Hibs and Hearts fans at work. I tried to get some banter going but no one was really biting. However, I did get asked to sign a few photos now that I've appeared on the BBC Sport website!
The Hibs players are over in Dublin just now preparing for the big game. It's a good idea just to get them away from all the buzz in Edinburgh and hopefully they can enjoy some peace and quiet, bond as a team, and come back fresh and up for the biggest game of their lives.
I wouldn't mind a wee pre-final trip over there myself, although my itinerary would probably be rather different.
I was visiting the website Hibs.net and saw a video message to the fans that some of the players had posted. That was a nice touch from the club and it certainly got me geed me up, especially wee Jorge Claros saying 'Viva Hibs!'
The fans can now reciprocate with messages of their own since the club have set up a filming event at the Easter Road shop and people can also send in their best wishes via email. The players will get to view the compilation in the bus on their way to Hampden from their hotel on Saturday.
Most of the Hibs fans I know are still hesitant when it comes to making predictions for Saturday but I'm picking up vibes from Hearts supporters about who has most to lose.
I know it's a cliché but it's a one-off game and anything can happen. How many people would have tipped Kilmarnock to beat Celtic in the League Cup final?
It could be a dodgy goal then a day of defending like Trojans, it could be a last-minute winner. It doesn't matter as long as the cup comes back to Easter Road.
I still believe we can do it, although I'm a bit worried to hear that Chick Young is tipping Hibs!
Simon and Bob were talking to BBC Scotland's Colin Moffat and they will be sharing their thoughts here throughout the week.