Manchester United beat Irish League 4-1 in Harry Gregg game
Last updated on .From the section Irish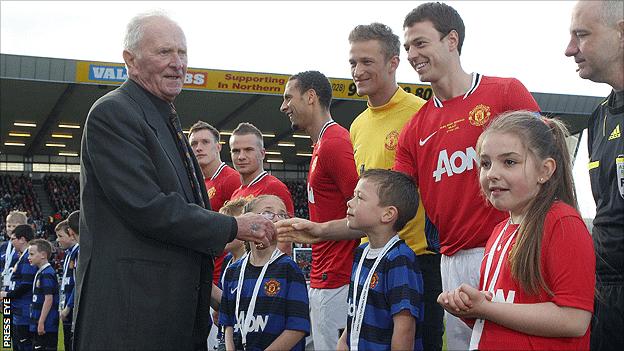 Patrice Evra, Ashley Young (2) and Wayne Rooney scored as Manchester United beat an Irish League Select 4-1 in Tuesday's Harry Gregg testimonial.
Michael Owen put Evra clear for the opener but Chris Scannell headed an equaliser early in the second half.
Young restored United's lead on 57 minutes with a direct free-kick.
Substitute Rooney scored from a penalty after Ross Redman's foul on Tom Cleverley before Young got his second goal near the end.
The game was a testimonial for ex-goalkeeper Gregg, who survived the 1958 Munich air disaster and was praised for staying with the burning plane to help passengers to safety.
The former Northern Ireland international had a 10-year spell with United, making 247 appearances.
Before the match, Manchester United manager Sir Alex Ferguson paid a warm tribute to Gregg.
"We should alway pay homage to those players who have played such a part in creating our history and Harry is one of them," he said.
"Harry showed great courage in the Munich air disaster. There was also his longevity as a goalkeeper at Manchester United.
"He is part of the rich history of our club and we should never forget that."
See more photos from the Harry Gregg Testimonial.