Man Utd's Patrice Evra says Luis Suarez racism row was 'difficult'
Last updated on .From the section Football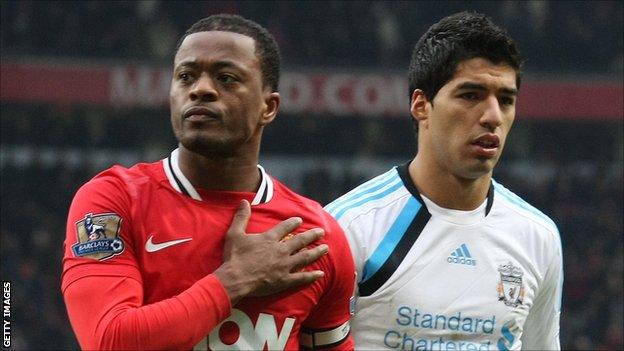 Patrice Evra says the Luis Suarez racism row and death of his brother have made this his "most difficult season" for Manchester United.
In an interview with BBC Radio Manchester, the left-back said: "There have been lots of difficult moments, including the case with Suarez.
"Bad and good experiences happen. The most important thing is how you react and I think I reacted in a good way."
Evra's brother died in October, just days after the incident with Suarez.
A 115-page independent report into the incident during the found that Suarez gave to the body that was investigating the case.
It said Suarez had "damaged the image of English football around the world". Suarez was said to have used the term "negro" seven times in around two minutes.
The row was escalated further in the return fixture at Old Trafford in February, when the Uruguay striker refused to shake hands with Evra before kick-off.
a victory that was greeted with wild celebrations by the French international at full time.
"It was more than the win," said Evra, who has captained United in the absence of long-term injury victim Nemanja Vidic.
"I know everyone was playing to win that game, for Manchester United of course, but a little part for myself as well. That's why my celebration was like that.
"I think it's the game in which I've had the most pressure in all my life. It was really difficult for me.
"Many people would never have tried to shake his hand. I did and he refused. People can criticise me and say many things, but this year I have been stronger than ever."
United were on Sunday, but missed out to local rivals Manchester City, who
As well as the pressures of the racism case and one of the most tense title races in living memory, the 31-year-old full-back has also had to deal with personal tragedy this season.
Evra's brother died suddenly in October, just had occurred, and he admitted that the past few months have been his toughest period since moving to England in January 2006.
"It is the most difficult season that I've ever had for Manchester United," he said.
"Before the (home) game against City, my dad called me and said I had just lost my brother.
"That's why I'm very proud of myself. I've been stronger mentally than ever because of the personal things that have happened to me this year. To keep going and to play every game is just amazing."