Mali's Kanoute ends his action packed career at Sevilla
By Phil Minshull
BBC Sport, Madrid
Last updated on .From the section Football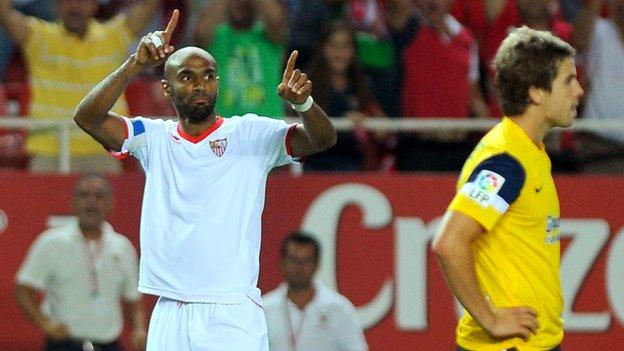 It was not the perfect end to Fredi Kanoute's career at Sevilla, playing the last 18 minutes of a 1-1 draw at Espanyol, but the Mali star can still look back on seven glorious years.
Since his €6.5 million move from Tottenham Hotspur in 2005 he has claimed the UEFA Cup twice, the Spanish Cup twice and both the European and Spanish Super Cups.
And although the really big honours - La Liga or the European Champions League - eluded him, in 2007 he was named African Footballer of the Year.
And on the way Kanoute became one of the most successful and beloved African players to feature at any Spanish club.
"There have been many good memories but even just saying that sounds a little peculiar after the seven years I have spent here," Kanoute said about his departure.
"Sometimes a player who does not play for one of the biggest teams will win a Cup, maybe two, has some good memories, but the past seven years has been fantastic, almost unexpected for a club like Sevilla.
"I am grateful to have spent so much time at this great club," he added.
If his final game was a little disappointing, then his last home appearance more than made up for it.
He scored the final goal in a 5-2 win over Rayo Vallecano - his fourth goal of the season and probably his last in La Liga, having found the net 87 times while with Sevilla.
To celebrate he stripped off his jersey to reveal a T-shirt which just said 'Gracias' and was cheered to the rafters of the Sanchez Pizjuan stadium.
It was a fitting send off for the man who became an icon to the Sevilla fans not only for his prowess in front of goal but for his seriousness and humanity off the field.
A practising muslim, in 2007, Kanoute famously paid around US$700,000 to buy a mosque in the city following an appeal by the Islamic community there.
At the start of the 2005-06 season, he controversially taped over the logo of the Sevilla club's then shirt sponsors, an internet gaming company, because he said his religion forbade the promotion of gambling.
He later relented and agreed to wear the kit as long as he was not involved in any promotional activities.
He has also funded, and been involved in, many humanitarian projects in Mali. All these activities have earned him the considerable respect among Sevilla's fans.
The question now is, what does the future hold for the 34-year-old Kanoute? The player himself does not yet have an answer.
"So far I have nothing decided, maybe in a few weeks I will say where I will go," he said.
"But I have always said that when I left Sevilla, I would not continue playing in Spain, and I think that will be the case."