Paolo di Canio backed by Swindon chairman after racism claim
Last updated on .From the section Football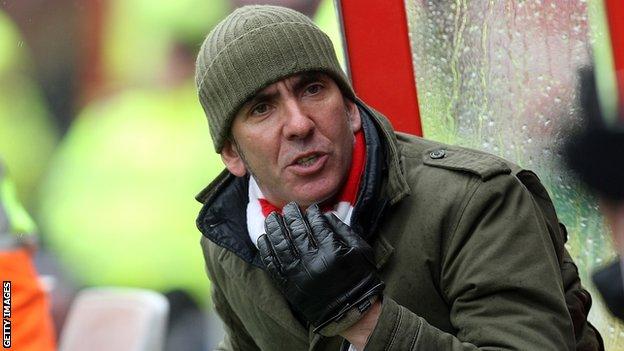 Swindon Town have given their full backing to manager Paolo di Canio despite the current racism allegations surrounding the Italian.
"We take racism seriously and have a zero tolerance policy on it," chairman Jeremy Wray told BBC Wiltshire.
"But we also support the manager 100% on this issue."
Although the alleged incident occurred back in March, the accusations against Di Canio, which he denies, only came to light the day after he had picked up League Managers' Association League Two manager of the year award.
"I thought the timing was a little ironic but these things have a habit of leaking out at strange times," added Wray.
"An allegation was made and we looked into it at the time. We were happy, having looked into it, that everything had been done properly and that there was no case for Paolo to answer.
"Having said that, an individual has always got rights to pursue whatever legal course they want - that's part of a democratic process.
"The FA have asked to be kept informed and have asked for bits of information and we are happy to provide them with that."
The flamboyant former West Ham striker, 43, has hit the headlines on several occasions during his year in charge at the County Ground.
And Wray believes his previous escapades both on and off the pitch make him a target for negative press coverage.
"I feel very frustrated from Paolo's point of view that people choose to pick on this as a story because of the person he is.
He concluded: "We've taken it seriously, we've looked at it properly and we believe it's been dealt with."
Meanwhile, Swindon are said to be interested in signing Yeovil Town striker Andy Williams.
The 25-year-old turned down a new deal at Huish Park last week and has caught the eye of the promoted Robins after scoring 17 goals in League One this season.