Karl Robinson cagey on MK Dons future
Last updated on .From the section Football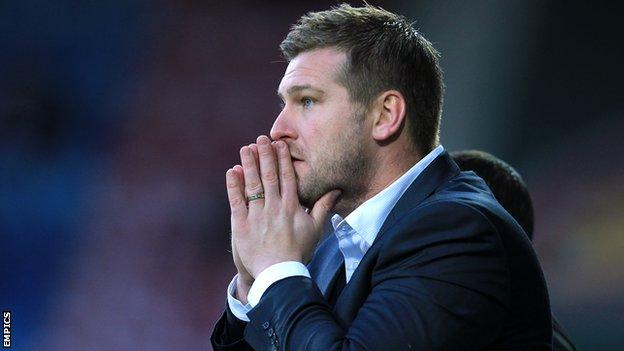 MK Dons boss Karl Robinson has refused to be drawn on his future at the club after a second play-off semi-final exit in as many years.
Robinson displayed his disappointment after Tuesday's 2-1 win at Huddersfield, which was not enough to
When asked about his future, he told BBC Three Counties Radio: "It's not about me at this point."
He added: "I love this club, you know what it means to me."
The former Liverpool coach suggested he would be taking some time off to collect his thoughts after failing to take the Dons to the Championship.
"I've never done this before but I want to say thank you to my wife and daughter," he said.
"This has probably been 10 months of time, effort and passion and she's let me get on with it.
"If I'm being honest I want to spend a month with my own family. They deserve every ounce of effort from me."
Talking directly to the club's fans, he added: "I'm sorry I let you down. But this club will get there some day."
Chairman Pete Winkelman is confident Robinson, who will stay beyond the summer.
"I know he wants to achieve something at Milton Keynes. I know he really wanted to get to Wembley and see the club promoted," he said.
"It's a task we're still yet to do. I have every confidence that we will be coming back again for next season.
"I'd like to give him the extra two or three players he needs because he's inspired us to want to make that additional investment and hopefully that will be a team that will do what Charlton did this year and Brighton the year before.
"Let's go and win this league because we've got a team that's good enough and we're keeping the majority of that team together."
Five players have committed their futures to the club, with the Dons activating 12-month options on the deals of Tom Flanagan, Adam Chicksen, George Baldock, Jay O'Shea and Ian McLoughlin.
And Winkelman has offered an improved contract to midfielder Stephen Gleeson, whose current terms expire at the end of June.