England squad: Reaction to Roy Hodgson's Euro 2012 selection
Last updated on .From the section Euro 2012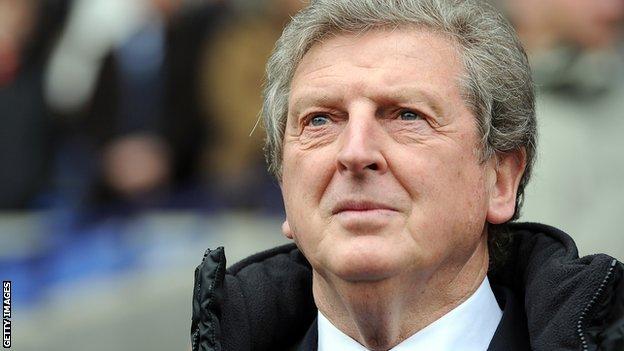 Players, pundits and personalities have been reacting to Roy Hodgson's 23-man England squad for Euro 2012, which was announced on Wednesday afternoon. Here is what they have been saying...
David Davies, former Football Association executive director, on the BBC News channel:
"I think Rio will be very upset, putting it mildly. But Rio is always gracious - he was when we had difficult times with him and, boy, did we have some difficult times.
"John Terry will absolutely get behind Steven Gerrard and the team. He is hugely patriotic. I know that very well. This could be his last hurrah for England. He will recognise this is an important time for him and he will want to be seen pulling together.
"It was interesting that he referred to Phil Jones. I think he will play a vital part."
BBC football pundit Garth Crooks on the BBC News Channel:
"The fact that we've not heard from Rio says all we need to know. I think he'll be furious. Football managers have to take decisions for the team, not the individual. I think Roy Hodgson thought it would be toxic to have both in there.
"I don't think Alex Oxlade-Chamberlain is a surprise. We all know his talent and he has a super temperament. I just hope it is not too much too soon.
"I thought it was a piece of classic management to let John Ruddy have his wedding. You want players in the right frame of mind."
Selected goalkeeper John Ruddy:
"It's all a bit surreal and hasn't really sunk in. The Norwich lads had a night out and I was feeling a bit worse for wear when I got the call. That's why it took a while to sink in.
"I can't wait to get started. I'm due to get married on 2 June (when England play Belgium). I've already had the conversation and they don't want me to call it off.
"So I'm still going to get married and then link up with the squad after that."
Selected forward Alex Oxlade-Chamberlain on Arsenal's website:
"I'm obviously delighted. To be picked for your country at any stage is a massive honour and to be at a huge tournament like the Euros is such a bonus. I think I play with no fear, I run at players regardless of who they are and try to make a difference.
"I have a youthful enthusiasm and I am so excited about this that I will try and take any opportunity with both hands.
"I will just try and make things happen, although I know there are other players who can do that. It will just be nice to get the opportunity and I will see what I can do."
Omitted right-back Micah Richards on Man City's website:
"Of course my initial reaction is to be gutted but a manager is there to pick a squad and he cannot pick everyone.
"No one will be cheering louder than me for England when the championships start. My really good mates from City and other clubs will be playing and of course I want my country to win.
"I will take myself off on holiday and come back refreshed and ready to start again next season.
"Hopefully I will play my share of those games and will be selected for the England squad at some time in the future."