Champions League: How Chelsea can beat Bayern Munich in final
By Raphael Honigstein
German football expert
Last updated on .From the section Football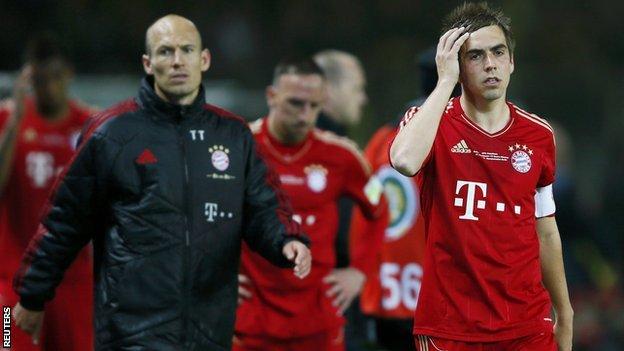 The whole city of Munich is turning red and white ahead of the Champions League final. But inside the Bayern camp, spirits have been dampened by the 5-2 drubbing at the hands of Borussia Dortmund in the German Cup final last Saturday.
"Maybe a bit a of humility is not the worst thing at the moment," Bayern president Uli Hoeness told Sueddeutsche Zeitung (a German national subscription daily newspaper) on Wednesday in an attempt to put a positive slant on the defeat.
Bayern's confidence might have suffered a blow to the point that Jupp Heynckes' men are no longer seen as natural favourites by the German media - but they remain formidable opponents.
The Bavarian back four and keeper Manuel Neuer were not without their wobbles this season, but a meagre 22 goals conceded in the Bundesliga - one goal shy of the record - suggests that their problems might have been overstated.
Against Chelsea, Heynckes will have to make changes, however.
In the absence of the suspended Holger Badstuber and Daniel van Buyten, who is short of match practice following a foot injury, Ukrainian midfielder Anatoliy Tymoshchuk will moonlight as a centre-back.
"Tymo", as the fans call him, is likely to get picked on by Didier Drogba and cannot hope to match him for sheer power or aerial prowess.
Hitting long balls to Drogba and feeding on his knock-downs worked a treat for the Blues when they eliminated Bayern 6-5 on aggregate in the 2004-05 Champions League quarter-finals and the Ivorian scored twice.
Bayern's worries at the heart of the defence are compounded by Jerome Boateng's unfortunate tendency to switch off at vital moments of the game. The former Manchester City defender does not exude the same authority as Badstuber either.
Diego Contento will replace the suspended David Alaba as left-back. The 22-year-old is dynamic but can be suspect positionally. He is the second obvious weak link.
Right-back Philipp Lahm, by contrast, is so good that Chelsea boss Roberto di Matteo mentioned him in the same breath with Franck Ribery, Arjen Robben and Mario Gomez when talking about Bayern's attacking threat on Tuesday.
The Bayern captain is consistent to the point of being a machine and offers constant support for Robben on the right flank. Chelsea need to pin him back to suppress Bayern's fluidity and watch out for early crosses into the danger area between goalkeeper Petr Cech and the centre-backs.
Tymoshchuk's move into the back four leaves Bayern without a recognised holding midfielder, since Luiz Gustavo is also suspended.
Toni Kroos and Bastian Schweinsteiger will make for a very cultured central pairing, but might not be able to offer much protection for the defence.
Chelsea's Juan Mata, in particular, will try to utilise the space between the lines. Thomas Mueller, Gustavo's replacement, is more of a roving forward than an attacking midfielder.
Bayern could be a bit top-heavy as a consequence and Chelsea could end up dominating the midfield with their extra man.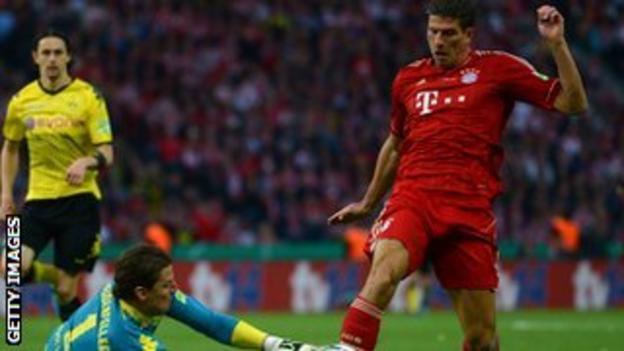 While the Blues should get some joy in the middle, they must be careful not get hurt on the flanks. Robben and Ribery will cause huge problems unless the Chelsea full-backs get help from the midfield.
Jose Bosingwa, the likely right-back, could be especially vulnerable. A key strategy has been to "overload" certain areas, with Robben, Lahm, Mueller and Ribery attacking the same side, for example. Chelsea need to be mentally alert to pick up those runners - even if they look like going nowhere at first.
Mario Gomez will never win a beauty contest, as far as his playing style goes. But 41 goals in all competitions, 12 of them in the Champions League, make him the key dangerman.
Gomez is an opportunist, a striker who sniffs out chances and pops up at the right time in the right place.
Technically, he is not the best but he scores with every, legal, part of his body, a bit like Gerd Mueller used to do.
For a man of his size, Gomez isn't actually that physical. He does not enjoy playing against big, strong centre-backs and is not always as involved as he should be.
If Chelsea can keep him quiet, they will have a good chance of lifting the cup as Bayern have little by way of alternatives on the bench.
Bayern's game is based on possession but with Mueller in the side they do not keep the ball as effectively. Chelsea must concentrate on the "turn-over", winning the ball deep and then breaking very quickly to bypass Bayern's midfield.
The experience of the German Cup final might make Heynckes' men just a little more cautious, especially without a proven ball winner in midfield.
Chelsea should be able to exploit that element of hesitation by isolating Robben and Ribery on the wings and cutting off the supply to Mueller, the link-up man for Gomez.
The first goal in a game is always important in a Champions League final. Bayern, however, need it more than most teams: they only managed to win one game all season after conceding first, if you exclude the semi-final win at Real Madrid on penalties.
Once they are behind, Robben and Ribery often show impatience and Gomez, especially, is vulnerable to mood swings when things are not going for him.
Bayern players have dismissed the idea that the final being at home puts more pressure on them, but a good section of the crowd will certainly get restless if Chelsea are standing strong.
There is also a danger that not-so-hidden rifts inside the dressing room might come to the fore again. The longer Chelsea can keep the score level, the more Bayern will be affected mentally.