Andriy Shevchenko backs Roberto Di Matteo for Chelsea job
Last updated on .From the section Football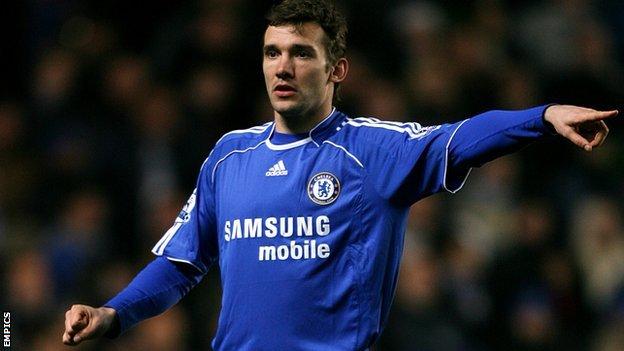 Andriy Shevchenko says Roberto Di Matteo can make an irresistible claim for the Chelsea manager's job if he wins the Champions League on Saturday.
Shevchenko, 35, played for Chelsea for three years and is still a friend of owner Roman Abramovich.
The Ukraine striker told BBC Sport: "I think Roberto di Matteo has a good opportunity to change the future.
"If Chelsea win the final, he will put a lot of pressure on Abramovich. Life is about taking opportunities."
Shevchenko now plays for Dynamo Kiev, where he started his professional career in 1994.
He added: "If Chelsea win the final, the situation and the future of the club will change.
"It's so important. Roberto, Chelsea, the fans, the club, have an opportunity to change the future. Chelsea always have chances because of the quality and experience of the players.
"Maybe he can take the job, you never know."
Chelsea face Bayern Munich at the German side's own Allianz Arena, knowing that only a win will secure their Champions League place next season.
The game could potentially be the last in charge for Di Matteo, who took over as interim first-team coach in May following Andre Villas-Boas's sacking.
Shevchenko moved to Chelsea from AC Milan in 2006 for a then-British record fee of £30.8m, but had an unhappy time at Stamford Bridge, scoring only nine goals in 48 games in the Premier League.
His career up to that point had been one of seemingly continuous success. He won the league title in each of his five seasons with Kiev and helped them reach the 1999 Champions League semi-finals.
From there, he scored 175 goals in 296 games for AC Milan, as well as being named the 2004 European Footballer of the Year.
Shevchenko, who is set to play for co-hosts Ukraine in Euro 2012, admits his time at Chelsea was a major frustration, caused largely by injuries.
"I came in after the World Cup and was very tired and [had] an injury," he said.
"I never had a continuous good year. I'd play two or three months very well and then get an injury. I had three operations in two years, which is a lot.
"In my memory I did everything in the right way. I was always professional, I tried hard and gave everything on the pitch, which is important for me.
"Sometimes life is not going in the way that everyone wants. Sometimes I have a very difficult time, it's normal."