England's Scott Parker could miss Euros - Roy Hodgson

By Phil McNulty
Chief football writer, BBC Sport
Last updated on .From the section Euro 2012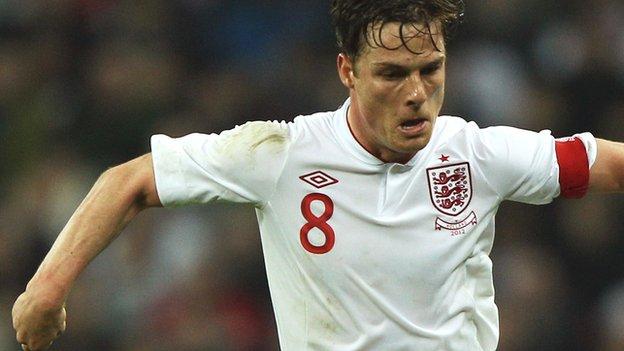 England manager Roy Hodgson has admitted that Tottenham's Scott Parker is a doubt for Euro 2012.
The 31-year-old, who has an Achilles tendon injury, was captain under caretaker Stuart Pearce, but has been replaced by Liverpool's Steven Gerrard.
Hodgson said: "Scott's had an injection which will probably take a week for us to see if it's been successful or not."
"He could still miss out, although from what I'm hearing, it won't be a problem. He's very confident."
Hodgson added: "We've got until the 29 May to finalise the squad and I may still have a call to make on that one if it's looking dubious, if there is a doubt.
"I'll have that call to make. Do I take the risk and go with a doubt and hope for the best or do I say 'I'm sorry, I've selected you in my 23 players, but now I have to remove you'?
"But I'm very confident that won't happen. I'm very optimistic. The doctor spoke to Scott Parker and Spurs on Wednesday, so I'm confident - but I can't give a guarantee."
Liverpool midfielder Jordan Henderson has been placed on stand-by and would be called into the squad if Parker was ruled out.
Manchester United's Michael Carrick, who has not played for England since May 2010, was not considered because he told the Football Association he did not want to be a bit-part player.
However, he is willing to help the national side should the need arise.
Meanwhile, Hodgson believes Alex Oxlade-Chamberlain, 18, is ready to make his mark and insists his decision to pick the teenager is not a repeat of Sven-Goran Eriksson's inclusion of Arsenal team-mate Theo Walcott for the 2006 World Cup, when he became a passenger in Germany.
He said: "I wouldn't have chosen him if I didn't think he was ready to start games. It won't be easy for him to break into the team given the competition, as we've loaded up in the wide areas because Wayne Rooney can't play in the first two matches.
"Alex has a maturity beyond his years. I think sometimes there has to be a place in the squad for a precocious talent. It will help England's future as well."
"I can't guarantee he'll play. I'm pretty sure Sven selected Walcott for the right reasons as well but maybe when push came to shove he showed he wasn't quite up to it in training.
"I'm expecting that Alex Oxlade-Chamberlain will now be able to deal with that situation and won't be overawed by the Steven Gerrards, Frank Lampards, Gareth Barrys and Scott Parkers.
"I expect him to stand up to that, but I don't know. The only way I'll find out is to select him and sling him in at the deep end. Even if he doesn't swim now, he'll learn to swim in the future."