Scottish Cup diaries - day three
Last updated on .From the section Football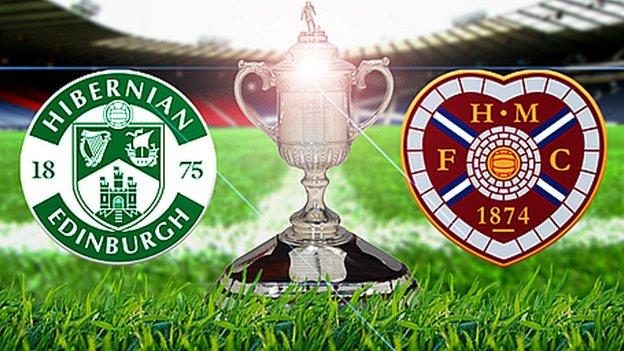 Hearts supporter Simon Rennie and Hibs fan Bob Henderson continue to share their thoughts with BBC Scotland in Scottish Cup final week.
Bob Henderson, Hibernian fan
I am delighted to say that I managed to get another ticket for the final through the Hibs website. It took me an hour to get onto the site, but I got one right away; yet my brother in law had been on a lot longer without managing to get one.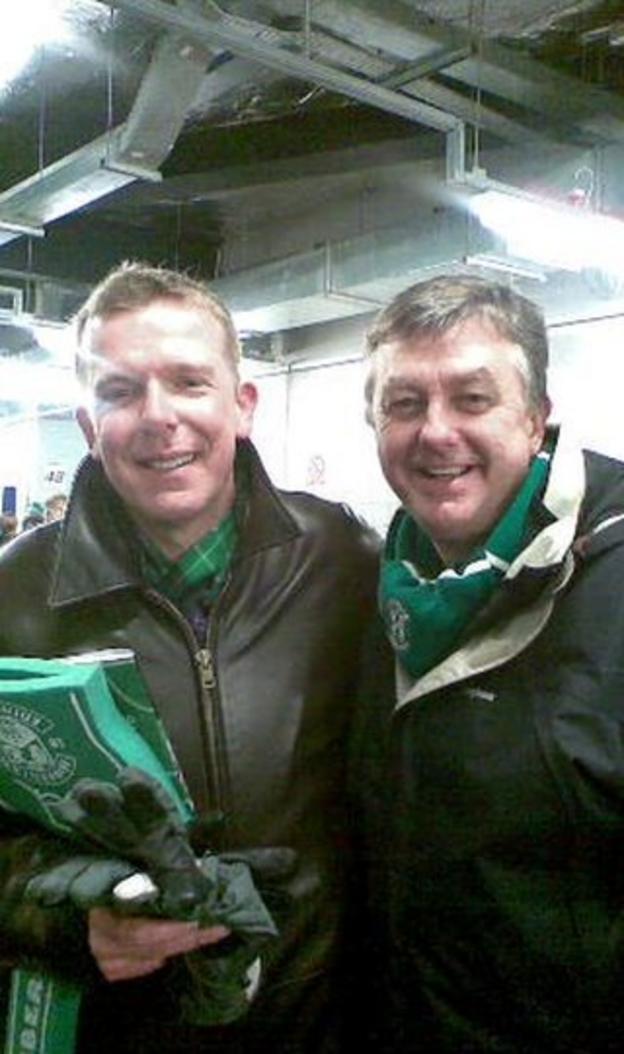 I had already been able to get four tickets for the rest of the guys - it's been a good week. So that's five of us going over to Glasgow in a car on Saturday: myself, three brothers-in-law and a nephew.
A couple had not renewed their season tickets this year for a variety of reasons, which made it more difficult to get tickets, but we have them now. That's the beauty of having a family of Hibs fans - and it saves on the arguments as well!
On Friday night, we're going to the 50th birthday party in Pathhead of another brother-in-law, one who is not interested in football (although he still wants Hibs to win) and that should help take our minds off the game. We'll then have some breakfast and a beer there before heading for Hampden.
The journey could be interesting as I imagine the M8 will be choca, so we will try to get through to Glasgow early on the day. I am keen to see what it's like full of Hibs and Hearts fans.
Normally when we go to Hampden, we go to the same pub in Mount Florida, but we will have to find somewhere else as that is at the Hearts end of the ground.
I enjoyed myself the last time I was there to see Hibs, when we beat Kilmarnock in 2007, and when I saw Bruce Springsteen in concert in 2009.
My two favourite things: watching Hibs and listening to Springsteen. And hopefully I will make it a hat-trick of enjoyable experiences at Hampden on Saturday.
Work has been reasonably peaceful, with the banter at the bank between the two sets of fans, which are split about 50/50, being limited, I think, because of nerves.
There are two friends at work, one a Hearts fan and the other a Hibs fan, and they have agreed not to talk this week because they're so nervous.
But there was a bit of bravado from the Hearts fans during Sportsound from Tynecastle on Tuesday and that has heightened the excitement and created a bit more banter. However, it will be our turn on Thursday when the BBC will be broadcasting the programme from Easter Road.
I will be going along to the stadium that night for the launch of Peter Cormack's book. As I have said already, he was my hero when I started to watch Hibs as a boy, so I am looking forward to that. I don't read many books, but I think I have just about every Hibs book going and this one will be extra special.
Simon Rennie, Hearts fan
I've been pretty much revelling in Tuesday night's Sportsound. I really enjoyed being at the BBC event at Tynecastle, especially with former players John Robertson and Gary Locke being so confident and positive.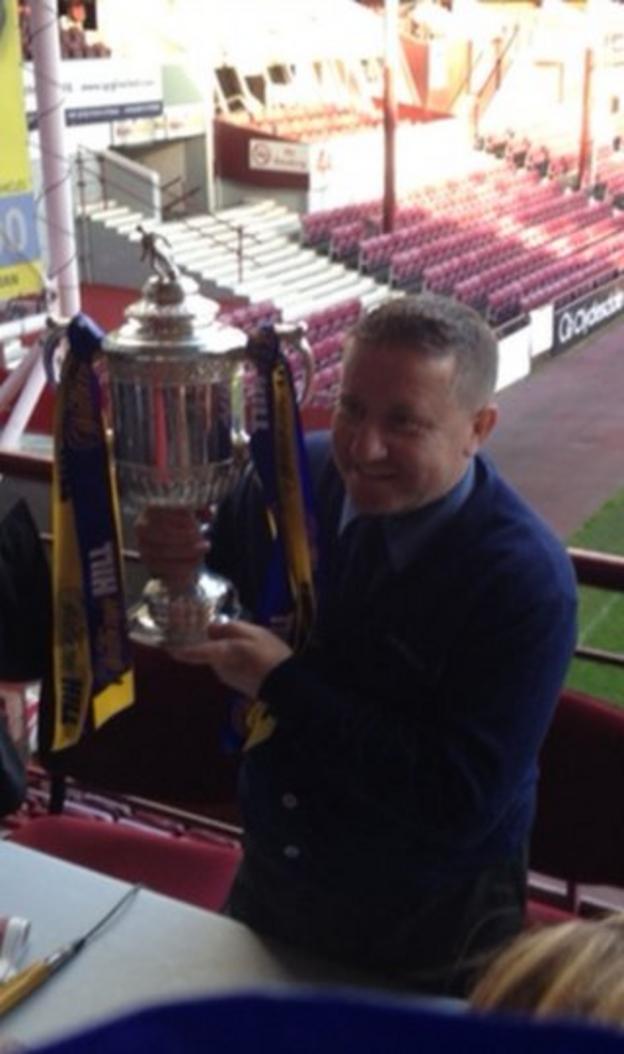 But I've had a bit of stick from Hibs clientele at the pub because of that and the diary, saying I'm enjoying the fame and glory! I've just been letting them know that, compared to Hibs fans, we are used to fame and glory.
I managed to organise the final bits and pieces for the bus trip through to Hampden. We have 103 heading through in two coaches from Penicuik. We'll have a few drinks before heading for Hampden - but not too many as we want to savour and remember the occasion.
I've been putting my amateur football head on and my thoughts have started to turn to how the final might go on the park. I have been keeping an eye on the news and BBC online and I've been particularly keen to hear if Craig Beattie will be fit to play.
If he does, it could make a massive difference. He not only provides a bit of quality up front, but he has a knack of bringing other players into the game.
No one player makes a team, but he is one that can turn a game even more than Rudi Skacel.
If we go out 4-4-2, I would go with the team that finished against Celtic in the semi-final. And I would come out the traps and have a go at Hibs for the first 10-15 minutes in an attempt to get an early goal that would allow us to settle and take the bull by the horns.
I think we've got the talent to do it. Players like Andrew Driver, although he hasn't been very good this season, and David Templeton can cause problems for their defence as well as Skacel and Beattie.
It would've been great had injured Jamie Hamill been available. He has a good shot in him from the edge of the box and it is likely to be a tight game that could be decided by that kind of effort. However, Ian Black and Darren Barr can control the centre of midfield and protect the back four.
Garry O'Connor is Hibs' biggest dangerman. He is a cracking goalscorer, even if he looks a bit tubby at times and has proved it since returning to Easter Road.
But, in goal, we have Jamie MacDonald and he has proved in the last few weeks that he is not a bad goalkeeper.
And I think Andy Webster and Marius Zaliukas can handle O'Connor and Leigh Griffiths, who has the tendency to pick up a red card when frustrated. I want it to be a good game and not spoiled by anyone being sent off, but at the same time we want to win at all costs.
Simon and Bob were talking to BBC Scotland's Clive Lindsay and they will be sharing their thoughts here throughout the week.