Chelsea's old guard set for last stand in Champions League final
Last updated on .From the section Football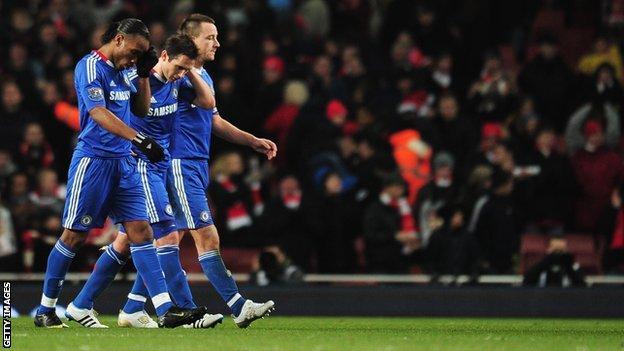 If Andre Villas-Boas was sacked so Chelsea's old guard could be freed to summon old glories - they have not disappointed.
Until March, this had been the most traumatic season since Roman Abramovich bought the club in 2003. Villas-Boas's side had won 13 of their 27 league matches, losing to Queens Park Rangers,Aston Villa and West Brom along the way and going down 3-1 to Napoli in the Champions League.
But those same players have turned around a lost season. Under Roberto di Matteo they have won the FA Cup and reached the Champions League final.
"Almost from the moment Ashley Cole cleared the ball off the line to stop Napoli getting a fourth goal at home, they have looked like a different side," says former Chelsea and Republic of Ireland striker Tony Cascarino.
"They rode their luck against Barcelona in the semi-final but they earned that luck. This is a team that has found unity and hope again.
"Having looked like they probably couldn't beat Birmingham in the FA Cup in March, they are on the brink of arguably their greatest achievement."
Whatever the result, the Champions League final against Bayern Munich on Saturday is likely to mark the end of an era.
When Chelsea have needed inspiration during the Abramovich reign, they have turned to three players above all: Drogba, Lampard and John Terry, whose combined age is 98.
That means there will likely be changes this summer. Drogba, Jose Bosingwa and Florent Malouda may leave, while doubts remain about the future of Lampard, Salomon Kalou and a handful of others.
Much of the problem is that this, a few tweaks apart, remains the team that Jose built.
"Mourinho's imprint remains on Chelsea almost as strongly as it ever did," Cascarino adds. "That is the measure of the man, you feel his presence long after he leaves. I am sure Inter Milan players will tell you that - and no doubt Real Madrid will feel it when he eventually decides the time has come to go."
It is no coincidence that much of the success Chelsea have enjoyed in the post-Mourinho years has been built on the foundations the Portuguese set down - Guus Hiddink's FA Cup win and Carlo Ancelotti's Double to name but two.
Villas-Boas found the difficulties of attempting to rebuild the Special One's team, while Di Matteo has benefited from the sense of relief among the players at the Portuguese's departure.
Cascarino adds: "At football clubs you tend to see the pictures of the great sides of the past hanging around the walls of the club, with Chelsea it is pictures of the players that are still there.
"There is certainly a need for fresh blood, but not before what might be the old guard's last big moment in the spotlight."
Drogba has been instrumental for Di Matteo. The Ivorian has scored 12 goals this season - five in 12 games under Di Matteo - making match-winning contributions in the FA Cup semi-final and final, both at Wembley.
Cascarino says: "Drogba is back bullying defences again. But he has done this before when new managers have come in."
Meanwhile, Lampard's late-season form has made a mockery of his consistent omission under Villas-Boas. In December, he considered leaving Stamford Bridge as rumours of interest from Manchester United surfaced.
But normal service has now resumed and with it the resurrection of the old Chelsea. With Terry, Lampard and Drogba fit, trusted and happy again, Chelsea have won 14 of their 20 matches under Di Matteo's interim management, having won only four out of Villas-Boas's final 14.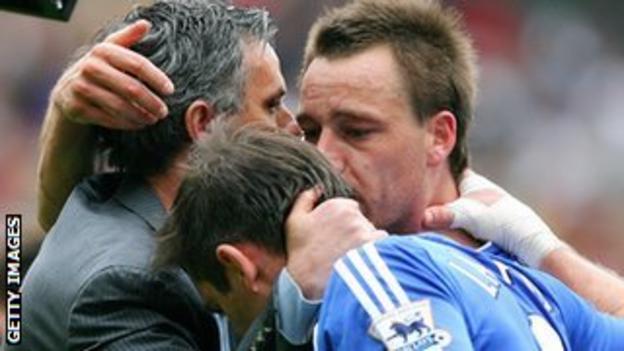 "Di Matteo has done an incredible job," Cascarino says.
"At MK Dons he was known as an attacking, inventive manager. At Chelsea he has essentially used the blueprint left by Mourinho to adapt this team back into one that is very hard to beat. Slowly it is starting to look like his team now."
Chelsea still have some huge, strategic decisions to make this summer, starting with a permanent manager.
The enduring legacy of Mourinho means that they still have enough quality, experienced players to conjure victory in Munich on Saturday - even with Terry, Branislav Ivanovic, Ramires and Raul Meireles suspended. Defenders Gary Cahill and David Luiz are both returning from injuries.
"Given that they are playing on Bayern Munich's home turf and with the suspensions they have, Chelsea are facing a huge task," Cascarino says.
"They will need to ride their luck, hope Petr Cech has a flawless evening and take the chances that will undoubtedly come their way.
"Bayern's front three of Mario Gomez, Arjen Robben and Franck Ribery are as good as anyone. If Chelsea can cope with them, they have a chance."