England Lions skipper James Taylor asked to report to Lord's
Last updated on .From the section Cricket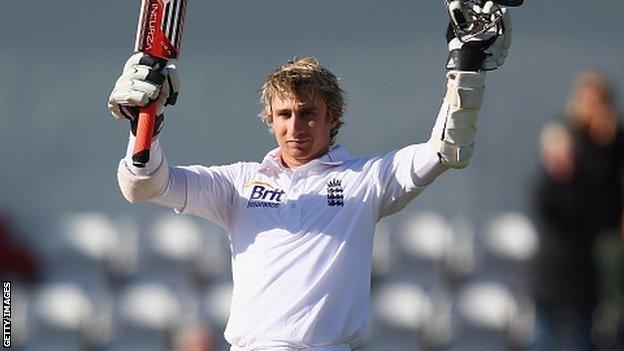 England hopeful James Taylor will miss a rare appearance in club cricket this weekend after being told to report to Lord's to link up with the Test team.
Nottinghamshire batsman Taylor, who hit 118 as England Lions captain against the West Indies touring team last week, was due to play for Shrewsbury against Wolverhampton in the Birmingham League.
But instead of playing at London Road, he will be at the home of cricket.
"It's a shame that we won't see Jimmy," said Shrewsbury captain Ed Foster.
"But he's obviously very close to selection for the England side.
"The opportunity for him to spend a few days with the Test side is an important one for him and we hope it goes well."
Former Shrewsbury School pupil Taylor, 22, is the Shropshire club's contracted Birmingham League player for the 2012 season.
But the former Shropshire and Leicestershire batsman was only ever likely to make a mere handful of appearances for Shrewsbury this summer because of his busy schedule - and this Saturday's game was due to be his first.