Kenny Dalglish's Liverpool sacking unfair - Alan Hansen

By Alan Hansen
BBC Sport football expert
Last updated on .From the section Football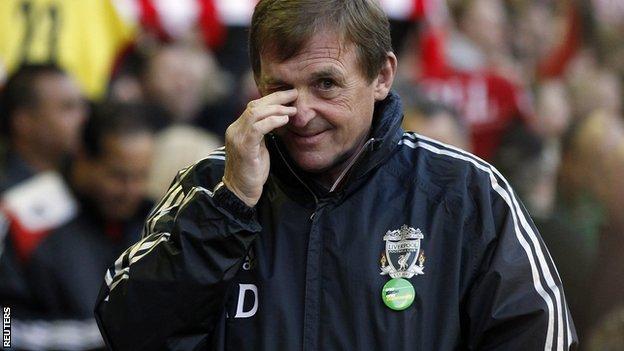 Kenny Dalglish will feel great sadness at his sacking as Liverpool manager - sadness that he will never again walk through the doors of Anfield at the head of the team at the club he loved.
As his friend I feel sadness too. I feel sad that he did not get the chance I believe he deserved, the chance to start next season in charge after finishing eighth in his first full season back and winning the Carling Cup.
I genuinely believe he had done enough to keep his job. I would say the same if any other manager had achieved the same things in the same circumstances Kenny faced when he returned to take temporary control after Roy Hodgson was sacked in January 2011.
Kenny will be shocked and distraught because he loved Liverpool Football Club and their supporters. Just walking through the door at Anfield gave him an extra spring in his step and he will feel fragile today about not being able to do that again as manager.
When he first returned after Roy's departure the perception was that the club was on its knees. I'd never experienced anything like it in the last 30 years, but Kenny quickly unified the club and got the team playing the sort of football the fans wanted.
In reality it was the only place he wanted to be. He had waited so long to get the job back after leaving in 1991. And as his friend I know how much he put into the job. Even when he went back to work at the Academy before becoming the manager again, he put his heart and soul into it. I'd ring him for a chat on a Sunday and he would be down there. He just loved being at Liverpool.
He was so enthusiastic about working with those kids and what he could pass on to them and how he could improve them. Nobody could have worked harder when he was manager because he loved Liverpool so much.
This is why he will feel hurt and upset by what has happened. I knew what it meant to him because he had waited 20 years to get back in and Liverpool was his professional life.
Dalglish himself would have been disappointed with the final Premier League position, but he did win the Carling Cup and if you are winning trophies this should ultimately give the manager some leeway.
When you are rebuilding you have to start somewhere and winning silverware is not a bad place, no matter how highly or otherwise people regard the Carling Cup.
The decision to sack him is therefore further evidence that the Champions League and the riches it offers is king now. Liverpool's owners, the Fenway Sports Group, have set the bar high here because it was always going to be incredibly difficult for Kenny to come back, rebuild the team and restore them to the Champions League in one full season.
Kenny's signings have been central to much of the criticism he has received. No-one would suggest all of Kenny's buys have been rip-roaring successes, but I still think Jordan Henderson will develop into a very fine player and Roy Hodgson saw fit to include Andy Carroll and Stewart Downing in England's Euro 2012 squad and put Henderson on stand-by.
It is also always difficult to integrate six or seven new signings instantly. Where there was a problem was with a lack of goals. Henderson, Carroll, Downing, Charlie Adam, and even Luis Suarez to an extent, did not score enough goals in the Premier League.
I am always the advocate of building strong foundations at the back but you need a goalscorer as well and Liverpool simply did not score enough goals.
Kenny was also criticised for his handling of the Suarez-Patrice Evra affair, when the striker was found guilty by the Football Association of racially abusing the Manchester United defender.
What Kenny did do, whether people think it was right or wrong, was show 110% commitment towards his player; in fact I think he probably supported his players too much during the course of the season and Suarez let him down when he did not shake Evra's hand, especially after telling Kenny he would.
Kenny will get over this but there is no doubt he will be hurting. He wanted so much to deliver more success for Liverpool's fans and I don't realistically see him managing any other club.
The task now for Fenway Sports Group is to get a new manager in quickly. For a club that used to make stability its watchword, this will be their fourth manager in two years. You are getting into the realms of Chelsea with all the chopping and changing, so it is a very big decision for them and they need to do it quickly.
They also need to act swiftly to quell any further discontent from supporters and prevent the possibility of an exodus of their better players.
Players such as Martin Skrtel, Daniel Agger, Pepe Reina and Suarez may look and think: "We've finished eighth and Kenny's gone, where are we going from here?" Those players were right with Dalglish and instability such as this can often breed uncertainty and unrest, so the owners must move decisively once they know who their man is.
Sadly, that man is not Kenny Dalglish but he can be consoled by the fact that Liverpool's supporters will never regard him as anything other than an iconic figure in the club's history.