Bournemouth's Groves says Evans' Tubbs comments 'distasteful'
Last updated on .From the section Football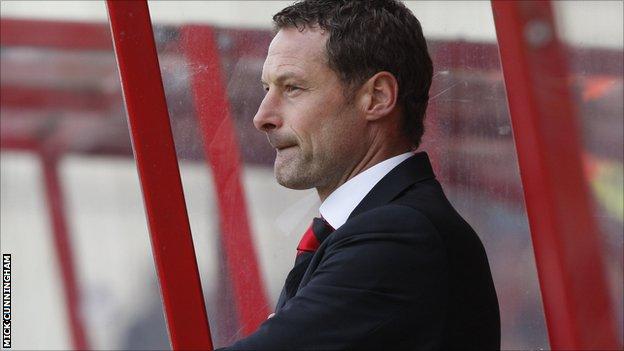 Bournemouth boss Paul Groves has said the actions of Rotherham manager Steve Evans were "distasteful", after he made public a failed bid for Matt Tubbs.
Groves says he does not want the club to conduct their transfer business in public while he is boss at Dean Court.
"It won't be something we do. You do it in a professional manner and that means not talking about players who are under contract," Groves told BBC Solent.
"It is distasteful, a manager is making comments about someone under contract."
Groves added he was aware the Cherries had done similar things in the past, but that will no longer happen under his tenure.
"It's won't be something we look to do," he added.
And the new Cherries manager says that despite Rotherham's interest in his striker, he is a key part of his plans for next season.
"Last season we didn't score enough goals," said Groves. "Matt is somebody that scores goals.
"We created chances towards the end of the season and maybe had he been around then a number of the games we drew, could have been won. Matt is definitely part of our plans."
Meanwhile, Groves says he is planning talks with midfielder Marc Pugh and defender Miles Addison.
Groves is keen to sign Addison permanently following after a successful loan spell from Derby County last season. Derby boss Nigel Clough has already stated Addison is free to talk to other clubs and does not feature in his plans at Pride Park.
Pugh has 12 months to run on his current deal, having stalled on signing a new long-term contract since January.
"Securing people like Miles and sitting down with Marc, who are both ambitious and who want to play at a higher level, is a discussion that needs to be done sometime in the near future," he added.
Groves has also hit back at Warren Cummings' criticism of the way his departure from the club was handled.
Cummings was released this week after 10 years at the club, with his Cherries career ended by a 30-second phone call from Groves.
But Groves says a face-to-face meeting with released players, including Cummings, was not possible as they were "dotted all around the world".
Cummings was in Scotland when he was given the news, and an earlier meeting could not have taken place as Groves was only appointed permanently last Friday when the retained list had not been completed.
"We gave every one of them the opportunity to come in and talk face-to-face," said Groves.
"A lot of them were outside the country or far away from the office so we chose to speak to them on the phone.
"It would have been nice to speak to them while they were still around towards the end of the season, but I have only just been appointed.
"We couldn't deal with retained lists until we had been appointed."