Champions League final: The mind games of a final

By Phil McNulty
Chief football writer, BBC Sport
Last updated on .From the section Football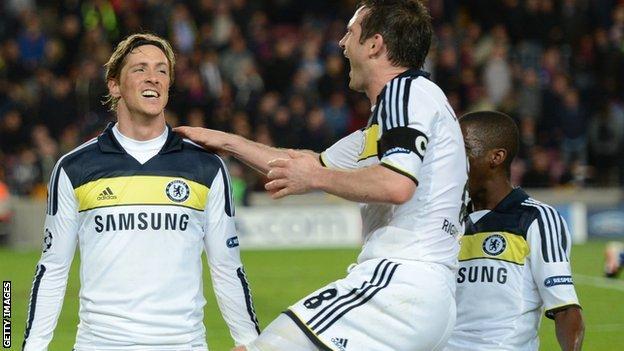 Chelsea face the daunting prospect of facing Bayern Munich in their own Allianz Arena on Saturday night as they attempt to finally complete their mission of winning the Champions League.
The Germans are tough opponents on any territory - but the extra advantage of playing in their home city on their home ground only makes Chelsea's task more arduous.
Interim manager Roberto di Matteo will no doubt examine every avenue, both footballing and psychological, to reduce the mental impact of effectively having a one-off away game to claim the biggest prize in European domestic football.
It is unlikely, however, that Chelsea will repeat a ploy used by Liverpool when they found themselves playing in similar circumstances when they faced AS Roma in Rome's Stadio Olimpico in the 1984 European Cup final.
If Liverpool had any nerves, they coped in song - and as a consequence shattered the composure of their Italian opponents.
BBC Sport's Mark Lawrenson played in that final, which Liverpool won on penalties after the game ended 1-1 over 90 minutes, and remembers the incident all too well.
He said: "We had a lot of laughs in our dressing room and some big personalities. We'd already had a walk around the pitch to take in a very hostile atmosphere, which was Graeme Souness's idea, then we were walked out into the tunnel for kick-off.
"We had a lad in our squad called David Hodgson, who was from Middlesbrough. The singer Chris Rea also came from Middlesbrough and Hodgy started singing his song 'I Don't Know What It Is But I Love It'.
"We all started singing it. Roma's coach Nils Liedholm was finishing his team talk when he heard all this and he said afterwards he saw the colour draining out of his players' faces to hear the opposition all giving a song moments before a game like that. It relaxed us and made them nervous.
"If Chelsea can find something that works for them great but I would suggest their approach should be the same as for a normal European game. Don't give Bayern anything early on to get the home fans excited. If that game is as dull as ditchwater for the first 30 minutes then I reckon that will suit Di Matteo just fine."
Lawrenson's defensive partner Alan Hansen also remembered the impromptu singalong and told BBC Sport: "I think Craig Johnston, who we signed from Middlesbrough, was involved as well. They must have looked at us and thought we were mad but it was a reflection of the team spirit we had.
"We were totally together and that is what Chelsea must be, playing a Champions League final on their opponents' own ground. They must be their last words to each other - stick together, be with each other all the way because without that you're nothing in these games.
"It may seem an unfair situation but Chelsea have known all the time where the final is being played. You might also feel that playing on their own ground will add to the pressure on Bayern but let me tell you, you would take playing a major final on your own ground every time - there is pressure anywhere. If I had been told I was playing a European Cup final at Anfield, I'd have said: 'Thanks very much. I'll take my chances.'
"We were the underdogs against Roma because the odds swung in their favour on their own ground. They were also on pretty much 10 times as much as us to win. We got £6,000 and they were going to get £64,000 but we could have been on 6p. It wouldn't have mattered and I'm sure Chelsea's players will feel the same.
"We looked around our dressing room at the big personalities like Souness, Kenny Dalglish and a world-class player like Ian Rush and it was reassuring. Chelsea will be missing players like John Terry but they will still have Frank Lampard, Ashley Cole, Didier Drogba and Petr Cech. They will be vital."
Terry is suspended after his red card in the semi-final in Barcelona and Hansen had no consoling words. "He will be the loneliest man in the world," he said. "He will want his mates to win desperately but how he will wish he was out there. I remember missing the 1982 League Cup final when Liverpool beat Spurs and while I was delighted for my mates that we won I just wanted to get out of there afterwards.
"We had had a good run of away performances up to that final, winning at Athletic Bilbao, Benfica and Dinamo Bucharest. It gave us confidence and Chelsea won against Benfica in Lisbon and have beaten the side everyone regards as the best in the world over two legs in the semi-final so they should remember that."
Lawrenson added: "Not only did Chelsea beat Barcelona over two legs - they did it without the ball. They can certainly beat Bayern but they will need all their big players right at it. Bayern will also pose a different threat than Barcelona.
"They can stretch Chelsea with Franck Ribery and Arjen Robben, seriously stretch them. They will know that but they will know they have already beaten Barca, so anything is possible even if they are playing the final on their opponents' ground."