Go and finish the job, says Crewe Alexandra boss Steve Davis
Last updated on .From the section Football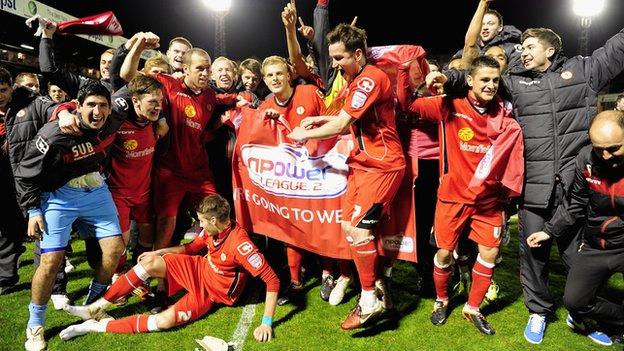 Crewe Alexandra boss Steve Davis is the first to admit that his promotion-chasing side "crept in the back door" to make the League Two play-offs.
But having extended their astonishing unbeaten run to 18 games by Davis insists that the job is not yet done.
"We crept in the back door and were delighted just to be there," he told BBC Radio Stoke.
"But, once we'd done that, we wanted to go all the way and finish the job."
The hallmark of any Alex side almost since Dario Gradi first disembarked at Crewe in 1983, to start his footballing overhaul of this sleeping Cheshire railway town, has been the accent on youth and promise.
And, even though Gradi finally let go of the reins to allow Davis control of the iron horse last November, the journey remains the same.
Excepting the presence of 34-year-old play-off veteran Steve Phillips in goal and even allowing for the return of 31-year-old skipper Dave Artell for Wednesday night's second leg at Roots Hall, the average age of Davis's side was less than 22.
And it is a first full season for more than just their two much-prized teenage talents, 18-year-old Nick Powell and Wednesday night's 17-year-old scorer Max Clayton.
"I had to wait a long time before I got the chance to play at Wembley," said former Burnley centre-half Davis.
"For it to come in their first season I hope they don't think this is going to happen every season.
"Having said that, they've worked very hard for it.
"The lads did well in the first game and we knew it was going be different in front of a big crowd baying for something better.
"But, for us to come through is a fantastic achievement," added Davis, whose son Harry has played a big role of late in his dad's back four.
"They've all got ability but, you have to prepare well and work hard.
"When they get over that white line. That's what counts."
Now the hard part for Davis is striking the balancing act of keeping his team's feet on the ground, while ensuring that they remain undaunted by the prospect of playing at Wembley.
"It's a fantastic opportunity to put themselves in front of the TV cameras on that stage," he said.
"The players are back in on Friday to assess any damage.
"Then we might go to Wembley in midweek and acclimatise ourselves to the stadium rather than do that on the day.
"Then we can get all the mouths wide open and thinking 'Oh My God' out of the way."