West Ham's final bigger than Chelsea's, says Sam Allardyce
Last updated on .From the section Football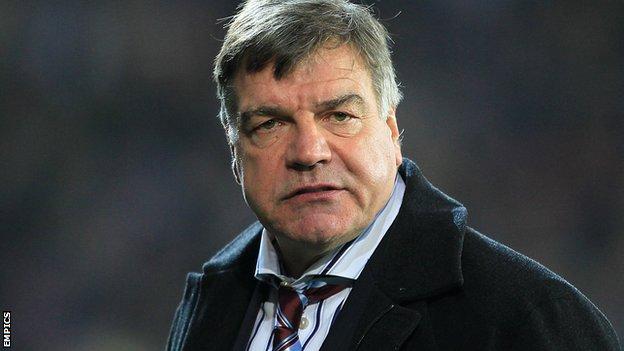 West Ham manager Sam Allardyce says the Championship play-off final is bigger than the Champions League final.
The Hammers face Blackpool for a place in the Premier League on Saturday.
He told BBC London 94.9: "I think it means more to both clubs and their livelihoods. The Champions League is massive, but it's a cup competition.
"This is 11 months of hard work and planning to make sure we have a brilliant season, not a disappointing one. That makes it much bigger."
The play-off final is often referred to as "the richest game in football", with an estimated £45m windfall awaiting the side who wins the showpiece game.
Should the Upton Park outfit miss out on an automatic return to the top flight, Allardyce admits his playing budget is likely to be cut next season.
"Every football club, year-in, year-out, has to cut its cloth accordingly," he added.
"It has to look at what its income streams are and adjust to what they will be.
"[Co-chairmen] David Gold and David Sullivan have put their hands in their pockets and whether they can sustain it if we don't go up is another matter.
"I hope that's not what we're thinking about on Saturday night."
Allardyce has experience of winning promotion to the Premier League through the play-offs, having achieved the feat with Bolton Wanderers at the Millennium Stadium in 2001.
"It feels like it was almost yesterday," Allardyce said. "It was such a pleasure to achieve the ultimate goal and manage in the top league in the world and test my skills.
"I want to feel that feeling again if I can. It's why I came here.
"We missed out on automatic promotion but to do it this way, as hard as it is, would give great satisfaction."