Scottish Cup diaries - day four
Last updated on .From the section Football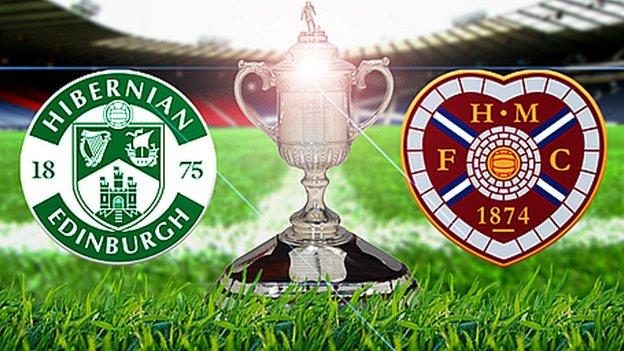 Hearts supporter Simon Rennie and Hibs fan Bob Henderson continue to share their thoughts with BBC Scotland in Scottish Cup final week.
Simon Rennie, Hearts fan
Everyone seems to be getting more excited because it is only two sleeps away now.
I've been looking at YouTube, searching back to a time when I was 18 and Hearts were at Easter Road in the fourth round of the Scottish Cup in 1994. If we avoided defeat in that game, we would be 21 unbeaten in Edinburgh derbies. So I made at work a big silver 21st key, like you get for birthdays, out of cardboard and tinfoil and took it to the match.
When we won it 2-1 thanks to a late goal from Super Wayne (Foster), I climbed up the BBC TV gantry - in those days it was a tin hut on top of scaffolding. And I got it on the telly by waving it behind Dougie Donnelly and Derek Johnstone.
I found it on YouTube (the game is on four parts there), took a picture of the screen and sent it to a couple of friends who are Hibs fans to wind them up. Hearts have not lost in the last 10 derbies and the caption reads: "You are saying 11 is one too many, but I can remember when you thought 21 was one too many." Indeed, we eventually made it 22.
I got a couple of texts back telling me I am over-confident and I have replied that they are running scared. It has just created a bit of banter back and forth - and it will give them a bit more ammunition if Hibs do manage to beat us.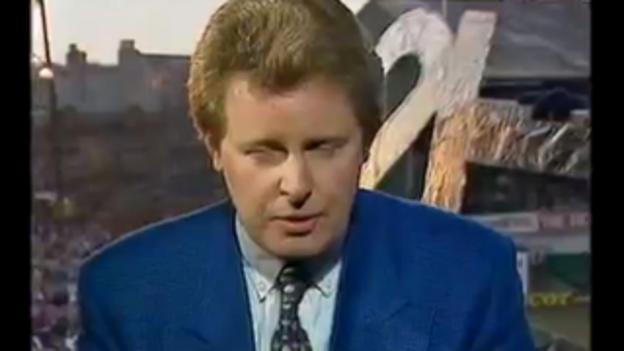 Unfortunately, the producer switched the camera from Dougie to Derek before I managed to get my face in the shot, but you can see me in the crowd with the big key during the game.
Until now, everyone has just been kind of waiting for the cup final to come around, but now they are realising it is almost a reality. Now I am like a massive kid waiting for Father Christmas to come down the chimney.
I had about 10 fans phoning me and some others asking if we have space on the two buses we are running from my hotel in Penicuik. Some have managed to get tickets late on or just haven't organised transport - some as far away as Peebles 15 miles away - but I couldn't offer them anything as we were booked up early.
We've also been getting the hotel ready for hopefully one fantastic day on Saturday. They will be fine without me and we are still expecting to be busy even though half the town is going through to the game - I think it is more of a Hearts town because there are five or six buses and I only know of one from Hibs.
I think they will be mainly neutrals in the pub apart from a few of the older Hearts and Hibs fans who don't want to go through to Glasgow. It is still a spectacle that fans of other clubs will want to come and watch because it is a once in a lifetime thing to have an Edinburgh derby in the Scottish Cup final.
There are probably as many fans of Celtic and Rangers in Penicuik as there are Hearts fans and hopefully this final will help change that as I believe in supporting your local team.
With the media having been focused for so long on the unfortunate financial problems at Rangers and things like the touchline behaviour of Neil Lennon at Celtic, I think this final is a breath of fresh air for the SPL. It's got people talking about the football again.
Bob Henderson, Hibernian fan
I went along to Easter Road and had a fantastic time. I finished work early so I would get there on time as the traffic from the Gyle can be a nightmare, but I got there on time for BBC Scotland's live broadcast for Sportsound and then went on to Peter Cormack's book launch.
There was a great turnout and there were a lot of old Hibs players and familiar faces - Peter Cormack, of course, Pat Stanton, Alex Cropley, Jimmy O'Rourke, Gordon Marshall and others. And, of course, there was Lawrie Reilly, the ultimate Hibs legend, the last remaining member of the of Famous Five. I got to shake his hand for the first time, so it was just a great night.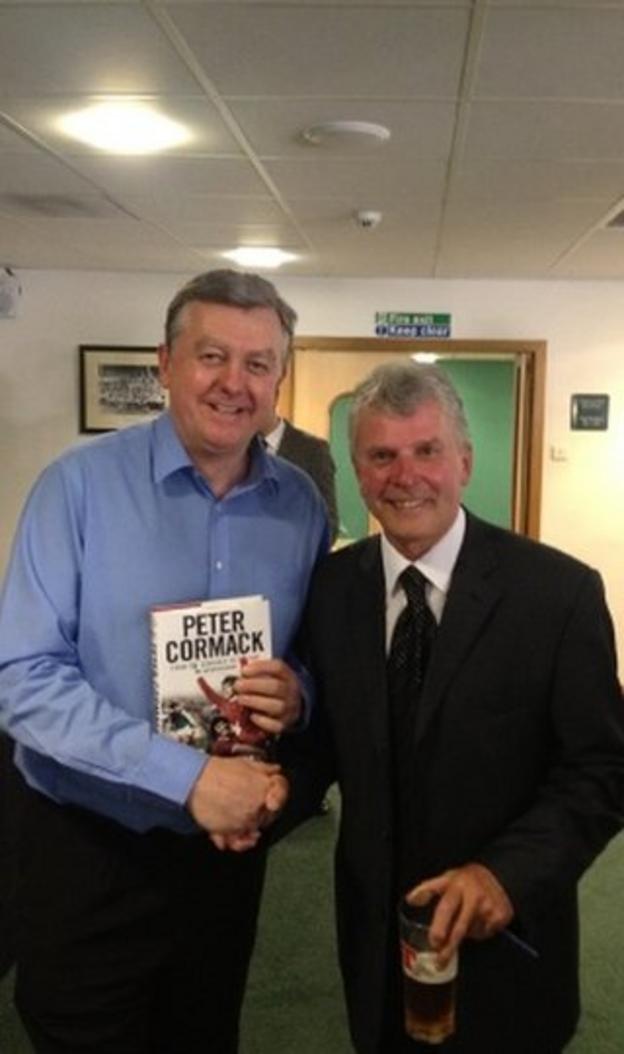 I got myself a copy of Peter Cormack's book. It looks like it is going to be a great read and it has a good introduction from the guy who has written it for him. It turns out it was written by Brian Weddell, who I used to go to school with. As far as I knew, he wasn't an author, but here he is having written a book for my favourite-ever Hibs player.
I also met Brian McLauchlin at Easter Road. We started work at Prudential Insurance at the same time 20 years ago - and left around the same time too.
Since then, I've watched his progress closely and now, of course, he is a BBC Scotland reporter. I'm sure he won't mind me saying that he's done well to get himself on the telly sometimes even though he has a face for radio!
It was interesting to hear the former players' thoughts on the cup final. The general consensus seemed to be that, man-for-man, Hearts have the better team but that you never know what will happen in cup finals and derbies. People are starting to think there's something in the wind and it could be Hibs' time. I'm not saying we're confident, but we're optimistic.
I thought Hibs chief executive Rod Petrie came across pretty well on the radio show. He was sitting beside former Hibs player Stuart Lovell, who I like and is a clever guy, but there seemed to be a bit going on between them and Rod Petrie was determined not to allow the former striker to get the last word.
That was interesting to watch - and to see the programme being broadcast live. I was impressed with the host, Richard Gordon. He is a sharp cookie. You realise how they have to think on their feet and be on the ball in these radio shows.
The cup final fever has stepped up a gear at work, with a lot more banter and a bit of confidence coming from the Hearts fans, which is fair enough. I've found out that half the team has taken the day off on Monday, so it's going to be me and a Hearts fan at the bank on that day while the rest recover from the weekend's joy or disappointment.
Now the countdown has really started and I am looking forward to finishing work and heading to my brother-in-law's birthday party and having a few eve-of-final drinks.
Simon and Bob were talking to BBC Scotland's Clive Lindsay and they will be sharing their thoughts here throughout the week.