Pat Fenlon tells Hibs to forget burden of history
Last updated on .From the section Football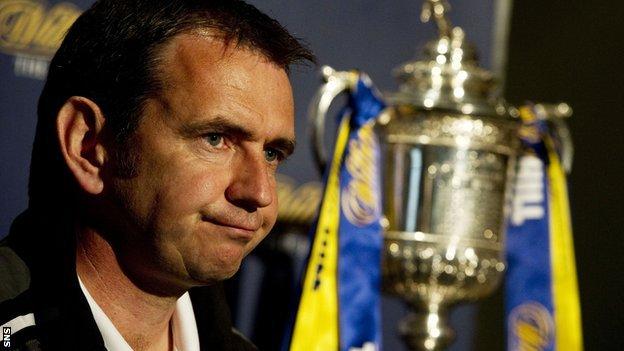 Pat Fenlon has told his Hibernian side to focus on Saturday's final rather than the burden of ending the club's 110-year wait for Scottish Cup success.
Hibs face Hearts in the first all-Edinburgh final since 1896.
The manager said of the Hampden meeting: "We've just got to make sure that that's what we focus on and not all the other hype that goes with it.
"We can't change what's gone on previously, but we can change it come Saturday."
And Fenlon points out that the history is not a burden on himself as he only took charge in November.
"It's my first attempt to get through the Scottish Cup and we've got to the final at the first attempt," he said.
"It gives us a great opportunity. We're 90 minutes from ending that, but there's a big obstacle in front of us."
Hibs are winless against Hearts in 10 attempts and last won an Edinburgh derby in May 2009.
Hearts have won all three meetings this season and those are statistics Fenlon is aiming to change.
"They've been better for three years, but that's not something I can control," said the Irishman.
"We've just got to try to change that over a period of time and a great way to start would be this weekend."
Fenlon, who took Hibs to Dublin earlier this week to prepare for the game, has already selected his side for Hampden.
"We know the team, the players know the team," he added. "It's been a good build-up."