Celtic manager Neil Lennon hopes for Rangers resolution
Last updated on .From the section Football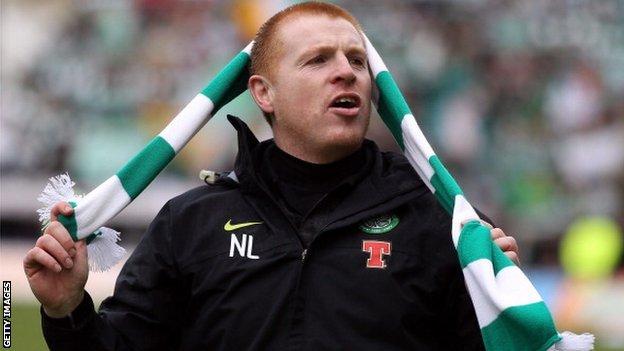 Celtic boss Neil Lennon hopes Rangers can sort out their problems in order to keep the Old Firm spectacle alive.
Rangers have been in administration since February and the threat of liquidation has yet to be extinguished despite a proposed takeover.
"There is no show like punch," said manager Lennon.
"Regardless of all the other stuff that comes with the Celtic-Rangers scenario, those games have been fantastic to be part of."
Rangers suffered another blow this week when a Scottish Football Association appeal panel upheld a 12-month transfer embargo imposed as a sanction for their failure to pay £13m in tax during the last 12 months.
A prospective ownership group fronted by Charles Green hopes to secure a Company Voluntary Arrangement to bring the club out of administration, but failure could leave a newco Rangers applying for entry to the Scottish Premier League.
Rangers' administrator could, meanwhile, seek to challenge the ruling further, but Lennon thinks Celtic's city rivals must face some kind of punishment.
"That would be a huge loss to the club here and the game in Scotland," he said of the prospect of a newco Rangers being voted out of the SPL.
"But Rangers have to sort themselves out. You can't ride roughshod over other clubs or the game and expect not to be punished for it.
"It's a bit of a shambles really. A club as big as that, the way it has been run for the last few years, it's shocking really.
"Hopefully there can be a resolution pretty soon and we'll see where it takes them."
Some Celtic fans have threatened to walk away from the game if their club votes to admit a newco Rangers.
"I can understand that, but then again, you are going to punish the club and the players who have done nothing wrong," said Lennon.
"We really need the support, particularly away from home where our record over the last couple of years has been excellent, because they have been like a 12th man for us.
"I wouldn't be a big supporter of boycotts, but I can understand some fans' take on it."
Lennon has previously expressed sympathy for rival manager Ally McCoist, his players and other staff.
"It's a shame for a lot of people," he said again. "There are a lot of people being punished who have had really nothing to do with it.
"It's been an ongoing saga for quite a while and I'm hoping there is a light at the end of the tunnel for everyone concerned."