Torquay boss Martin Ling to discuss the future of his squad
Last updated on .From the section Football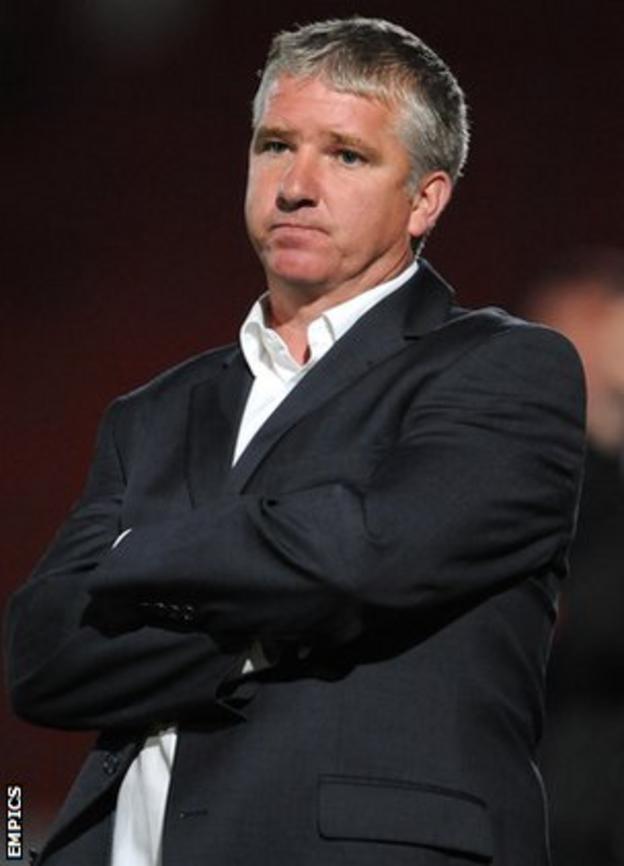 Torquay United manager Martin Ling will discuss his players' futures next week after the club was knocked out of the League Two play-offs.
"There will be some comings and some goings like always at a football club," Ling told BBC Sport.
"But the majority of the players in the squad I want to keep on board."
Torquay's two biggest names who are out of contract are highly-rated centre-back Mark Ellis and midfielder Damon Lathrope.
Ling has already trialled Southend and Dundee United midfielder Craig Easton and signed academy defender Kirtys MacKenzie to his first professional deal earlier this year.
"I've got to pull some more rabbits out of the hat like the Olejnik's and the Saah's of this world, but they're out there.
"But we've also got a good percentage of those players already in the building and the harsh reality is now that my mind is ticking about making the right decisions to help this club move forward."
The defeat was the second season in-a-row that Torquay have been knocked out of the League Two play-offs, with their end-of-season form costing them an automatic promotion berth as they slipped from second to fifth in five winless games at the end of the regular season.
"I've been really proud of the players, they've done wonders this season, but we've not pulled off what we wanted to do.
"We've over-achieved in the last two years.
"Let's be fair, Paul Buckle over-achieved last year by coming seventh and getting to the final, and we've over-achieved this year by being fifth and being knocked out in the semi-finals.
"Can you keep over-achieving? Of course you can," Ling added.
"We go into next year knowing we're not going to be one of the big spenders, we know the people coming into the league are going to have money.
"But we were expected to be mid-table and below this year and we proved them wrong and I quite like proving people wrong so I hope we can do it again."