Ole Gunnar Solskjaer holds 'informal talks' with Aston Villa
Last updated on .From the section Football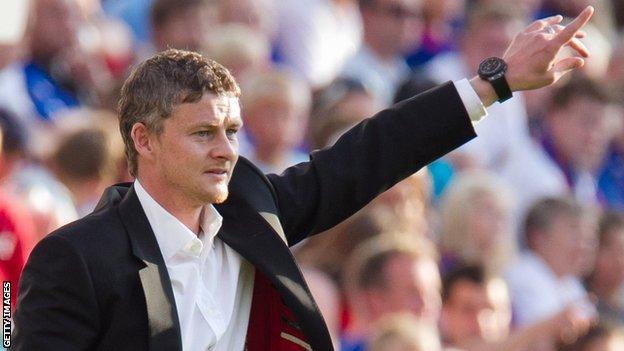 Ole Gunnar Solskjaer says he has had informal talks with Aston Villa owner Randy Lerner about the club's vacant manager position.
Solskjaer, 39, in charge of Norwegian champions Molde, flew to Birmingham on the American owner's private jet.
But the ex-Manchester United striker told Norwegian paper RomsdalsBudstikke there were no negotiations and Villa also had other candidates in mind.
Villa say they are talking to several possible replacements for Alex McLeish.
They said they would not discuss specific candidates for the job.
McLeish was sacked on Monday after 11 months in the job. Many supporters were unhappy with only finishing 16th in the Premier League, and their 38 points was one fewer than McLeish achieved during Birmingham's relegation season in 2010-11.
"I can confirm I've spoken with Aston Villa," Solskjaer reportedly told RomsdalsBudstikke.
"There were no negotiations, but an informal initial chat. They also have other candidates they want to talk to.
"I wanted to show respect for one of the biggest clubs in the Premier League by responding to their questions with an initial talk."
"I am the manager of the MFK (Molde) and have only had a casual conversation."
Molde revealed they had received "interest and contact from Villa" in a statement on the club's website.
Solskjaer retired from playing in 2008 and spent two-and-a-half years in charge of United's reserve team.
He returned to his native Norway in November 2010 to take charge at Molde and guided to them to their first ever league title in his debut season.
Solskjaer is one year into a four-year contract and could look forward to Champions League football next season if he remained at Molde.
He became a cult hero at Old Trafford where he made 366 appearances, scoring 126 goals in 11 seasons, and famously scored an injury-time winner in United's dramatic Champions League victory in 1999.
A statement from Aston Villa said: "The board has embarked upon an interview process, which will lead to the appointment of a new manager.
"This process will be focused and consistent with the board's objective, which is to reinvigorate the club and bring some vibrancy back to Villa.
"We are aware that certain individuals have been linked with our managerial vacancy but, out of respect to all potential candidates and any clubs they may be currently employed by, we will not discuss specific individuals by name."