Coventry City in talks to get a share of their Ricoh Arena home
Last updated on .From the section Football
Coventry City are in talks over a deal which could see them finally get shared ownership of their Ricoh Arena home - seven years after they moved in.
They pay £1.2m a year to the joint owners - a local charity called the Higgs Trust and Coventry City Council.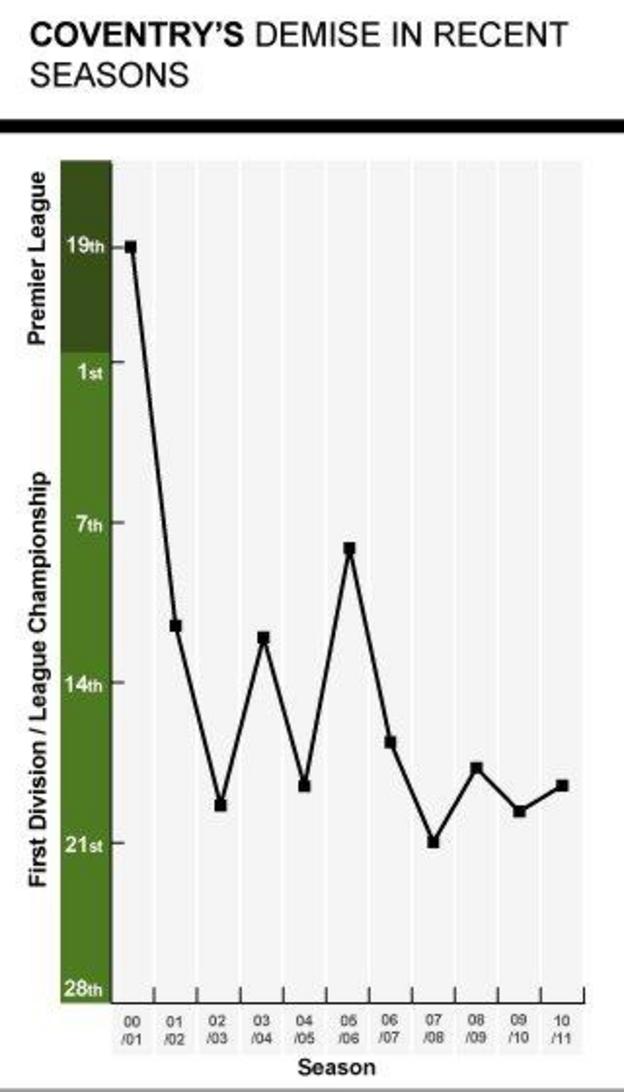 Following relegation to League One, the Sky Blues want to renegotiate the deal and the Higgs Trust are keen to talk.
"We're not a long-term investor. We'd love to be out," Higgs spokesman Peter Knatchbull-Huggeson told BBC Sport.
"It was never an intention of the charity to stay in."
The Higgs Trust bought Coventry City's half-share in the stadium following the club's relegation from the Premier League back in 2001 - four years before the Sky Blues actually left Highfield Road to move into their new home.
"What we wanted was to get the thing moving, get it built and start the regeneration," Knatchbull-Huggeson told BBC Coventry & Warwickshire.
"But we're not a long-term investor. We've got other projects we'd like to develop in Coventry.
"The stage we're at at the moment is that people will be going off and doing due diligence, which takes roughly 30 days," added Knatchbull-Huggeson, who also expects Coventry City Council will one day want to sell its share of the Ricoh.
"The city council are a longer-term custodian," he added. "But, again, their sole mission is to get regeneration.
"When they've got a partner that can take that on then I assume they will go out.
"It isn't the business of either of us to be running a stadium like that."
Knatchbull-Huggeson is also hopeful, after years of off-field financial woes and on-field frustration, that Coventry might be able to reverse the decline which means the Sky Blues will start next season in the third tier of English football for the first time since 1964.
But, with relegation, comes a significant fall in revenue. Even if the club's better players wanted to play in League One, the pressure to drive down the wage bill could force the 1987 FA Cup winners - who are still under a transfer embargo for not filing their accounts - to cash in.
Their position is not helped by the fact that, as tenants, they do no make any money from matchday food and drink sales, or the lucrative concerts and conferences which are held at the Ricoh Arena complex.
With Uefa's Financial Fair Play rules on the near horizon, limiting clubs' spending to a proportion of turnover, the Sisu group which owns Coventry are desperate to secure at least a half-share of the stadium and its revenues.
Knatchbull-Huggeson said: "How could I describe the management of the football club? I think best not to because of the laws of libel and so on. And anyway I expect I'd get edited out or bleeped.
"But I think that says enough about the management of the football club that now is the best time that something could happen.
"I think it's clear that they have acknowledged that they have failed over the first few years of their ownership.
"I think they've had a very cold shower and begun to understand that they need to run it more sensibly.
"And I think the people they have got now are the most sensible people I've seen at the football club in the last 20 years."