Aaron Downes return to Bristol Rovers not certain, says McGhee
Last updated on .From the section Football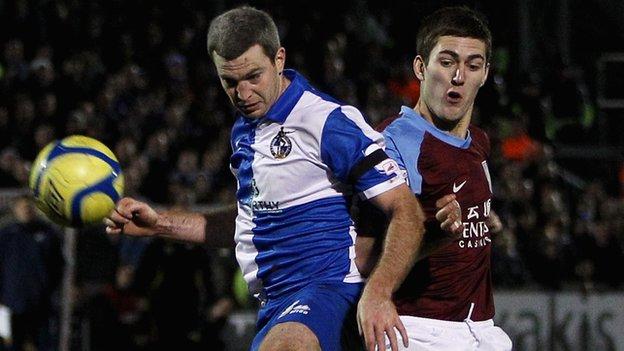 Bristol Rovers manager Mark McGhee says he is unsure whether he will bring in loan defender Aaron Downes on a permanent deal.
Injury restricted the Australian to nine appearances but he has previously expressed an interest in staying with the Pirates, and is now a free agent.
But McGhee told BBC Radio Bristol: "I'm looking for an excuse to sign him."
The Scotsman continued: "We've got to consider whether we need a fourth centre-half.
"We've got the two boys from Leicester [Tom Parkes and Cian Bolger] who we're still trying to get back.
"We've got Adam Virgo - we're still looking to see how fit he will be and we've also got the likes of Danny Woodards and Jim Paterson who can slip into a centre-half role.
"It's hard on Aaron as he's shown fantastic qualities in terms of his ability and his attitude. He's exactly the type of player you want at your football club.
"But we can't be luxurious in having players that we aren't necessarily going to need."
McGhee went on to reveal that former loan goalkeeper Michael Poke would not be returning to the club.
The Rovers manager has already started building his squad for next season, and has opted to release seven players from the squad including Byron Anthony, the club's current longest-serving player.
"To move on and make changes their has to be a natural cull," said McGhee.
"Byron was out of contract and he wasn't in the team. He's been away from the club on loan [at Hereford] so it was a natural thing.
"Everyone at the club speaks highly of him - there are people at executive level that are sorry to see him go - but these are the decisions I've got to make."